Ricoh Launches Watkiss Powered Booklet-Making Solution
Posted on : Tuesday , 29th September 2015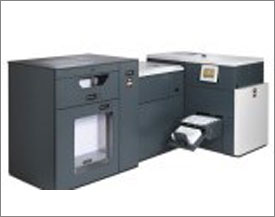 Ricoh launched an inline squareBack booklet-making solution in collaboration with Watkiss.
The Watkiss PowerSquare 224 is now configured in line with the Ricoh Pro C9100 series and Ricoh Pro C7100X series digital colour cut sheet production systems, and the Ricoh Pro C8100 series digital mono cut sheet production systems.
'The Watkiss booklet-maker combines stitching, folding, spine-forming and trimming to make SquareBack books up to 224 pages thick and supports a maximum paper size of 330m x 520mm,' said Jacques van Wyk, COO of Ricoh SA. 'SquareBack books are the fast and cost-effective alternative to perfect binding or tape binding. They have the square-spined appearance of a perfect bound book and the integrity of a stitched spine. They lie flat and they're easy to pack, stack and handle, and there's no risk of loose pages and the spine can be printed.'
This new solution is right-to-left feed direction. It features a twin knife trimmer that enables full bleed work to be produced, and a high capacity book stacker that allows the system to run for long periods of time before unloading.
'Differentiation is key in a crowded marketplace,' said Van Wyk. 'The print run is only half the battle and finishing can be crucial to streamlining production. With this new system, print service providers can tailor how they deliver solutions to their clients. This setup can run more than 50000 books a month and up to 150000 at peak times, which has a real impact on productivity and profitability.'
The Watkiss PowerSquare 224 has fully automatic settings for different book sizes and pagination, including variable stitch-leg length to support different book thicknesses. Its maximum book thickness of 10.4mm is double that of conventional booklet making machines. This makes it ideal for books with a high volume of pages or those produced on thicker stocks.
The small footprint system is easy to use with job parameters (paper size, book thickness and number of stitches) entered through a touchscreen. The PowerSquare automatically sets the stitch position, the wire draw length (the stitch leg length), the spine width required and the trim dimension. Job specifications can be quickly stored and recalled for efficient operation in the production of repeat jobs.
'The PowerSquare will enable clients to expand production capabilities, tap into new markets and increase their range of offerings,' said Van Wyk.
Orders can be placed in October, 2015 for the Watkiss PowerSquare-equipped Pro C9100 series and Pro C7100 series digital colour production systems, and in early 2016 for Pro C8100 series digital mono production systems.
Source : www.africaprint.com