Joint venture can meet packaging demand in southern Africa
Posted on : Tuesday , 29th September 2015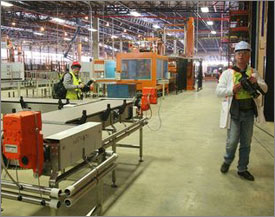 NIGERIAN aluminium beverage can maker GZ Industries and SA's Golden Era Packaging have entered into a joint venture valued at R1bn to set up a 1.2-billion cans a year manufacturing plant in Johannesburg to meet packaging demand in southern Africa
Called Gayatri GZI Beverage Cans, the venture between a major West African producer of packaging and one of SA's largest independent packagers will commence operations in the second quarter of next year.
Golden Era has supply chain and customer relationships in SA and across southern Africa. The factory will manufacture two-piece aluminium beverage cans in multiple sizes, using state-of-the-art technology. South Africans will be trained to operate the facility.
"GZI is committed to its strategy of becoming sub-Saharan Africa's largest packaging-solution provider to the beverage industry," GZI CEO Motti Goldmintz said on Tuesday.
He said the partnership with Golden Era accelerated access to new markets, as it consolidated its expansion in West and East Africa.
The new plant will give GZI capacity to make more than 3.5-billion aluminium beverage cans a year.
"We have an aggressive acquisition strategy in sub-Saharan Africa and strongly believe that Golden Era are ideal partners to help us achieve our pan-African vision," Mr Goldmintz said.
The venture will create substantial competition for aluminium beverage cans in the region. JSE-listed Nampak, Africa's largest diversified packaging company, has large aluminium beverage cans operations in SA, Angola and Nigeria. Aluminium cans are lighter to transport, cool drinks more quickly, and are easily and cost-effectively recycled.
"Our collaboration with GZI enables us to grow our South African operations and offer a more comprehensive range of packaging solutions to our customers, whilst leveraging the skills and footprint of one of Africa's leading beverage can manufacturers," Golden Ear CEO Kishor Chhita said on Tuesday.
"We are particularly excited about the highly skilled employment opportunities that this partnership will create, driving local development and skills transfer. This is truly a landmark opportunity, not only for Southern Africa's beverage industry, but also to exploit our synergies in the rest of Africa."
The companies said that GZI's West and East African footprint combined with Golden Era's southern African presence, would ensure both parties were well positioned to service sub-Saharan Africa.
GZI mainly serves soft drink and alcoholic beverage manufacturers in West Africa. It has recently expanded into Kenya. It sells aluminium beverage cans, glass bottles, plastic crates and bottle crowns.
Shareholders include Standard Chartered Private Equity, the investment arm of Standard Chartered Bank, which has operations in more than 70 markets across Africa, Asia and the Middle East.
Golden Era has a national footprint in SA, specialising in the manufacture of kraft paper, corrugated cases, folding cartons, notestiks and paper bags; labels, shrink sleeves and three-piece metal cans; and vacuum- and thermo-formed packaging.
It supplies packaging for general food, fish, powder and aerosol markets.
Source : www.bdlive.co.za