Ghana gets US$1.8bn loan for cocoa sector
Posted on : Thursday , 1st October 2015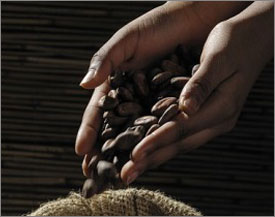 Ghana's cocoa regulator, Cocobod, has signed a US$1.8bn loan with international banks to finance purchases for the 2015/16 season
According to Cocobod spokesman, Noah Amenyah, the loan, signed in Paris by 23 lenders, will be used to purchase around 850,000 tonnes. The loan is the largest soft commodity deal in sub-Saharan Africa. Lead arrangers for the facility were Barclays Bank, Commerzbank, Deutsche Bank, French investment bank Natixis and Japan's Sumitomo Mitsui Banking Corporation.
Amenyah said that the loan was oversubscribed by 44 per cent, to the tune of US$2.6bn, but Cocobod took only US$1.8bn as was originally planned, at the rate of 1.19 per cent over 11 months. Cocobod had raised US$1.7bn from a similar syndication a year ago. "Once again, the syndication was oversubscribed and it shows the increasing confidence of the lenders in Cocobod's management and its operations," Amenyah said.
Inflows from the loan, to be drawn in early October, are expected to help boost Ghana's central bank's reserves in support of the local currency, which is currently down around 26 percent, Amenyah said.
Deputy chief executive of Cocobod, James Kutsoati, said that the regulatory body hopes to open the new season on 2 October, after closing the current season at the end of September.
Ghana is experiencing a poor cocoa harvest this year with output down 23 per cent from last year, due to harsh weather and poor farming practices.
Source : www.africanfarming.net