Rapid 3D Opens Printing and Additive Manufacturing Facility In KwaZulu-Natal
Posted on : Thursday , 15th October 2015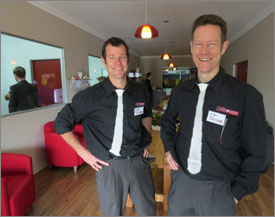 Rapid 3D unveiled its modern showroom and technical facility in Howick during September, hosting representatives from the Pietermaritzburg Chamber of Commerce, Trade and Investment KwaZulu-Natal, and lead designers, engineers and management from several local companies.
Garth Williams, Director: Advanced Manufacturing Technologies at the Department of Science and Technology, officially opened proceedings, briefing guests on his department's Additive Manufacturing Roadmap and stressing the importance of additive manufacturing as a tool to enhancing manufacturing competitiveness.
Supported by members of the Kemtek board and staff, the Rapid 3D team showcased a variety of advanced industrial and consumer 3D systems. Guests were invited to see these in action and discuss their applications with the technical team.
A particular highlight at the event was the newly-installed, state-of-the-art 3D Systems ProX 500 Selective Laser Sintering (SLS) Machine, allowing Rapid 3D to produce strong working plastic parts as prototypes, plus short run production. This SLS technology was complemented by an existing line-up of 3D printers including a ZPrinter 650, Envisiontec Desktop XL, Projet 3500 and various desktop machines.
The new facility is located at Unit 9, Midlands Business Estate, Prospect Place, Howick, KwaZulu-Natal.
Source : www.africaprint.com