Nuclear tech helps increase crop yields in Africa
Posted on : Tuesday , 27th October 2015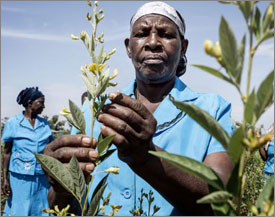 AFRICA - Climate change has prompted some African countries to use nuclear applications in water and soils management, thereby increasing crop yields by up to five times while improving irrigation water use efficiency by sixfold.
The countries including Ghana, Kenya, Mali, Tanzania and Uganda are using a technology that uses radioactive material for measuring soil moisture, enabling them to design appropriate irrigation systems and boost water use efficiency, according to the International Atomic Energy Agency (IAEA) and the Food and Agriculture Organization (FAO).
The Soil Moisture Neutron Probe (SMNP) technology has been used in a programme initiated by the IAEA and the FAO more than ten years ago to promote climate-smart agriculture and tackle the adverse effects of climate change.
At a session on nuclear technologies during the IAEA Scientific Forum in Vienna, Austria last month (15-16 September), Qu Liang, the director of the Joint FAO/IAEA Division of Nuclear Techniques in Food and Agriculture, noted that many measures, including the use of nuclear technologies, are needed to tackle the effects of changing climate on agricultural production to ensure food security.
"Tackling the effects of climate change on agriculture needs science-based decision and policymaking. [The] IAEA and FAO are making available technologies to monitor and understand the effects of climate on soils," Liang said.
He added: "We believe that nuclear technology can make a unique contribution in promoting climate-smart agriculture, and we are helping African countries adopt a multi-disciplinary approach in managing soils."
In Kenya, with support of IAEA, the Kenya Agriculture and Livestock Research Organisation (KALRO) has been able to evaluate the efficiency with which pigeon pea, a crop that grows in semi-arid areas is able to use the little available water and capture atmospheric nitrogen.
The process has created a cropping system that increased the pigeon pea's yields from 2,500 kilograms a hectare to 3,000-3,500 kilograms a hectare.
Liang said that Tea Research Institute of Tanzania has been able to evaluate the water needs for the crop using the SMNP technology and created a drip irrigation system that raised yields by up to 17 times.
Similar techniques were applied in Ghana where, according to the country's Ministry of Food and Agriculture, scientists with the support of IAEA were able to reduce water requirements for cabbages by up to 60 per cent through the use of drip irrigation.
"No single effort will be able to tame challenges of agriculture brought about by climate change, thus the need to use all of available technologies to enhance climate-smart agriculture," Liang said.
Joseph Mureithi, KALRO's deputy director, said his organisation has been picked by the IAEA as a centre for excellence to train regional workers on nuclear applications for agriculture.
Some 30 scientists from African countries including Ghana, Uganda, Tanzania and Zambia have been trained in KALRO laboratories, Mureithi added.
Source : www.agribusinessafrica.net