Terragen using Case IH baler for power plant bagasse
Posted on : Wednesday , 28th October 2015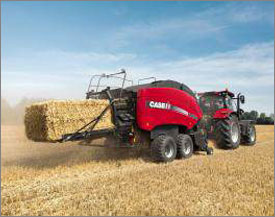 Mauritian thermal power plant Terragen is using the Case IH LB 434R baler to produce bales of sugarcane trash for its cogeneration thermal power plant
Sugarcane is highly efficient in converting solar energy; current technologies in use in Mauritius can produce over 500kWh of electricity per tonne of bagasse. Terragen, a joint venture between Albioma and Mauritian group TERRA, uses sugarcane to produce electricity during the sugarcane harvest season which runs from July to December, and switches to coal during the intercrop season. The company's 70.6MW thermal power plant produces around 400GWh of electricity annually, contributing about 15 per cent of Mauritius' yearly national electricity consumption.
To feed its thermal power plant, Terragen is running a sugarcane trash harvesting programme in collaboration with the Mauritius Sugar Industry Research Institute and in partnership with TERRA's agricultural division.
The company chose the new Case IH LB 434R baler to collect and bale the sugarcane trash. These high performance balers produce high-quality, high-density bales in under 60 seconds. They feature a new high-speed pickup and an additional feed roll for high speed work in all conditions.
"We chose the LB 434R for three main reasons: the high-density bales, the Rotor Cutter system and the optimal bale dimensions for transport and stocking. So far, we are very pleased with it. The quality of the bales is consistently high, they remain nice and compact," explained Lauriane Mietton, Terragen's agronomist in charge of biomass projects.
The Rotor Cutter system is designed to create tight and compact segments for easy distribution of the crop in the pre-compression chamber. As soon as it is filled to the required density, the stuffer fork pushes the material up into the bale chamber, repeating the process until the desired bale length is reached. The 3D density system keeps the bale in shape throughout the bale forming process. The bale is then tied using a double knotting system to minimise wear and tear on the twine.
"The Rotor Cutter system cuts the sugarcane trash shorter, giving us a much better quality of trash for use mixed to the bagasse in energy generation," added Charles Vaulbert, in charge of Terragen's co-products.
Source : www.africanfarming.net