Live Print Expands Product Portfolio With Xerox C70 Digital Press
Posted on : Monday , 2nd November 2015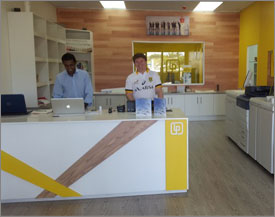 Live Print has expanded its product portfolio with a new Xerox C70 digital press from Bytes Document Solutions.
The company recently opened its doors at Salt Rock's Tiffanys Centre, promising the same personal service and high-end print solutions that have made its sister company Live Eye a success at the far bigger and more commercialised Gateway Centre in Umhlanga.
'Differentiation is one of the biggest challenges in a crowded consumer-driven market like printing, and while there's no substitute for hard work, it's probably the main reason for our success so far,' said Live Eye co-founder and Live Print owner Ryan Smith.
'Since we opened our doors at Gateway seven years ago we haven't done a day's advertising, it's all been word of mouth,' said Smith. 'The same applies to Live Print. We've come up with a 'Life in Print' mantra that touches every aspect of our business, from the first time a customer walks through the door or interacts with our online shop, to second and subsequent visits based on the quality of product and experience the first time round.
'We were bouncing the idea of a satellite business for a couple of years now, and a chance combination of meetings with a property consultant in Salt Rock and with Bytes Document Solutions at the FESPA Africa Print Expo in Johannesburg last year gave us the window we needed to make it happen.'
Smith was impressed by Bytes Document Solutions' approach and attention to detail. 'They clearly understood what our business was about, and knew what we'd need as a starting point for expanding the business beyond Live Eye. While the bulk of our business in Umhlanga was built on wide-format display printing for established blue chip companies, Live Print would necessarily have to cater for a much broader, walk-in clientele looking for a range of business stationery and personal printing products. What couldn't change is the quality.'
On Bytes Document Solutions' analysis and recommendation, Smith purchased a Xerox C70 digital colour press. 'First impressions count for any new business, but particularly businesses that cater to smaller communities where word of mouth is key,' said Amanda Kichenbrand, Sales Executive, Bytes Document Solutions Durban.
'Ryan and his team, with their Live Eye experience and pedigree, already had the experience and know-how to 'wow' his new customers. We had to make sure the products he delivered were equally impressive, and that his shop could sustain the expected volumes at competitive price points once word got out. The Xerox C70 is an ideal solution in this case, and will scale particularly well once Live Print decides to add new equipment to meet demand.'
Live Print will add a second Xerox workstation in the coming weeks to both lower the cost of monochrome printing and continue its upward growth trajectory by adding new products to its catalogue, including photo books.
'We couldn't be happier with the results so far,' said Smith. 'If anything, it's becoming critical that we add to our repertoire if we want to keep quality in touch with volume, and by accelerating growth we're also meeting one of our main objectives for both Live Eye and Live Print: improving employment opportunities for local communities.'
Source : www.africaprint.com