Zimabwe gets US$45mn AfDB funding for cashew sector
Posted on : Tuesday , 10th November 2015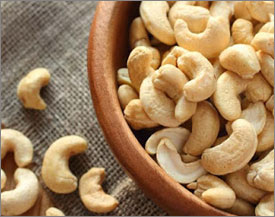 The African Development Bank (AfDB) has approved a US$45mn to finance the Cashew Infrastructure Development Project (CIDP) in Zambia
The AfDB loan will benefit CIDP and help in the revival of the Zambia's cashew sub-sector. This will involve leveraging the cashew value chain through irrigation infrastructure for cashew nurseries and clone gardens, cashew plantation rejuvenation and establishment, and infrastructure for cashew-processing and marketing.
The project will be implemented over a five-year period by the Agriculture and Livestock Ministry of Zimbabwe in the districts of Mongu, Limulunga, Senanga, Kalabo, Nalolo, Sikongo, Shangombo, Sioma, Lukulu and Mitete in the Western Province. The 10 Districts were selected on the basis of their high potential for cashew production; fewer frost-related problems; high incidence of poverty, food insecurity and malnutrition; and vulnerability to environmental degradation and climate change. Activities to be undertaken as a part of CIDP are expected to revive the sub-sector so that it would help reduce poverty and increase household incomes.
About 60,000 smallholder farmers including 30,000 women and 7,000 youths are expected to benefit from the project, as each of them is expected to cultivate 100 cashew trees on one hectare. The project will also create about 6,000 full-time jobs, including for 3,000 women, and 1,000 youths, within the cashew value chain from production, from processing to marketing.
The AfDB loan represents more than 81 per cent of the US$55.42mn total cost of CIDP. The Zimbabwe government is expected to provide US$8.31mn (15 per cent) while the beneficiaries will contribute the remaining amount, close to four per cent.
Source : www.africanfarming.net