DIGIPrint Zambia Receives Xerox MPS Accreditation
Posted on : Monday , 16th November 2015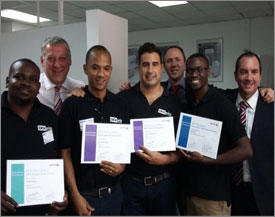 DIGIprint Zambia has further enhanced its value proposition by investing in the necessary skills and processes to achieve Xerox's Managed Print Services (MPS) accreditation.
The certification is provided by Xerox Middle East and Africa and the process is facilitated by Bytes Document Solutions (BDS), the largest Xerox distributor globally which operates in 26 African countries.
BDS MPS manager James Kelly said the Xerox MPS accreditation process is strictly controlled to ensure that qualifying partners have the correct skillsets, the robust processes and a commitment to consistent service delivery that helps make the Xerox MPS value proposition the strongest the world over.
'By completing the accreditation, DIGIprint has demonstrated its ability to deliver MPS for its clients in the Zambian market in the same manner it would be delivered anywhere in the world,' noted Kelly.
Xerox MPS can help reduce print-related expenditure substantially, freeing up resources by reducing pressure on the IT helpdesk and helping to improve overall efficiency and effectiveness of print and print processes. Xerox has the most mature MPS offering and leads the way globally, with recognition from Forrester, Gartner and IDC. With an ever-evolving MPS offering, Xerox is finding new ways to not only help organisations print- for- less, but to help them print less and move into a digital world.
DIGIprint managing director Christos Diakosavas said the company committed to Xerox document solutions in 2012, and has steadily worked on its implementation of MPS. 'As demand for MPS grew, we've increased our technical staff complement and invested in rigorous training in Johannesburg to meet the certification requirements.'
He said that growing demand is natural for the solution, as MPS is demonstrably more efficient, particularly when implemented in its entirety with both proactive and reactive monitoring. 'Through the hard work of our technical team and the foresight and dedication of our sales team we have now achieved accreditation and successfully rolled out Xerox MPS for our Zambian clients. In an expanding market like ours, efficiency is very important, and so I can only see the demand for MPS growing.'
BDS regional manager Olivier Merven said that BDS has worked closely with DIGIprint to support its achievement of the accreditation, and is further assisting in taking the Xerox MPS solution to market, including an event held in Lusaka in September to drive customer education. 'The event was attended by around 30 of the who's who of Zambian enterprise, confirming interest in a solution that saves money and drives business efficiency,' he noted.
With Xerox rated as the global leader in MPS, he says the increased accessibility of the service to African businesses will help drive international competitiveness. 'Customers no longer want to just buy a printer and consumables, they want experts to manage their entire document infrastructure, provide pro-active services and help them transition to the digital world. With its global experience and lengthy track record, Xerox is best placed to deliver,' Merven concluded.
Source : www.africaprint.com