Kenyan farmers grow chives to meet growing export demand
Posted on : Wednesday , 18th November 2015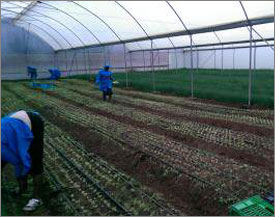 Chives, a herb belonging to the onion family, has become the crop of choice for a group of farmers in Kenya's Nakuru County
More than 80 farmers from Bahati constituency of Nakuru County who used to earlier farm maize and beans have switched to growing chives. Forming a group together, and in a partnership with seed company Premier Seeds and Chase Bank, they have bought greenhouses on credit in which they grow chives.
Under the terms of the partnership, farmers can repay the loans taken for their initial investment from the proceeds of chives. The repayment terms are agreed upon between the financier and individual farmers. Farmers make a 10 per cent deposit before the construction of the greenhouses as commitment to the project.
Chives takes about 45 days to mature after which farmers harvest a crop every 20-25 days for up to three years, and a greenhouse measuring 240 sq m produces up to 150 kg. A perennial crop, chives is easy to grow and is rarely attacked by pests and diseases. All these factors, along with a steady export demand, have made it a very attractive crop for the farmers.
Premier Seeds introduced the farmers to chives farming, providing them seeds as well as training on good agricultural practices and providing them access to markets. "Most of the farmers have not practiced greenhouse farming before and are growing a crop that requires observance of good agricultural practices and traceability. We have therefore had to do thorough training on every aspect of farming to ensure that the farmers' produce are compliant with the export market," said Simon Andys, founder of the company.
According to Andys, the demand for chives in Europe has been increasing by about two to four per cent each year, and UAE has also expressed interest in Kenyan chives. "Demand has outstripped supply. We have received so many delivery orders from the export market that we have been forced to cancel some because we cannot keep up," said Andys.
Source : www.africanfarming.net