Amatheon Agri Zambia opens new livestock centre
Posted on : Friday , 20th November 2015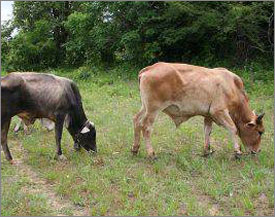 Amatheon Agri Zambia (Amatheon) has established a livestock centre in Mumbwa, Central Province in Zambia, hoping to improve beef exports
The European agribusiness and farming company unveiled the centre which would provide livestock disease control services with the capacity of supporting more than 8,000 cattle. The company wants to enhance livestock farming in the country and increase Zambia's chances of exporting beef.
Speaking while inaugurating the new livestock centre, Lawrence Evans, deputy minister for fisheries and livestock, said that the export of beef would promote and motivate small-scale livestock farmers and contribute to national development. He cited the government's intent to enhance beef exports as the reason for the establishment of the Ministry of Fisheries and Livestock.
Adding that cattle diseases were one of the biggest challenges in the livestock sector, preventing farmers from exporting their animals for a long time, Evans said that the new Amatheon facility would contribute significantly to domestic production and foster sustainable rural development.
Amatheon director, Troy Minneh, said that the company's contribution to the community stemmed from the intense participation of the hardworking farmers in Mumbwa district. "We are trying to support farmers to be entrepreneurial and be partners with government when it comes to fostering national development," he said.
Zambia's government has been constructing livestock service centres throughout the country to provide extension services such as dipping, spraying, vaccinations, artificial insemination, de-worming, branding and castration. The government is also undertaking the establishment of livestock breeding centres that would assist small-scale farmers to access quality and improved species of all livestock to increase livestock production in the country.
Source : www.africanfarming.net