Mondi Sees Packaging Boost From High-Tech Pet-Food Pouches
Posted on : Tuesday , 24th November 2015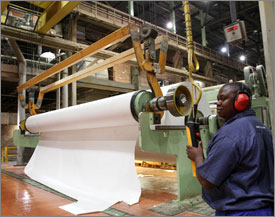 Mondi Ltd., the top-performing stock this year among the world's 10 biggest packaging makers, sees some of its biggest growth opportunities in food pouches that preserve everyday items from pasta sauce to dog food.
The company, based in Johannesburg, is among the few businesses able to produce the multi-layer barrier material used to make the pouches, Chief Executive Officer David Hathorn, 53, said in a Nov. 16 interview at Bloomberg's office in the South African city. The products require fewer raw materials and keep food fresher for longer than other packaging types, he said.
"You get odor resistance, liquid resistance and it's re-closable, so that also keeps the food lasting longer," he said. "With 30 percent of food going to waste before it actually gets onto the consumer's plate, longevity on the shelf is very important."
Mondi, which has its roots in printing paper and was spun out of Anglo American Plc in 2007, now gets more than 75 percent of its revenue from packaging and is seeking to expand further in the industry. Consumer products including pouches, packs and bags offer the best chance for growth, Hathorn said. The company, which also makes products from cement bags to office stationery and operates in more than 30 countries, will consider building and expanding its own plants as well as acquisitions, he said.
Mondi's dual-listed shares have gained 69 percent in Johannesburg this year and 43 percent in London, making it the best performer of the world's 10 largest packaging companies by sales, according to data compiled by Bloomberg. The stock declined 1.6 percent to 319 rand as of 2:15 p.m in Johannesburg, valuing the company at 155 billion rand ($11 billion).
Consumer packaging accounts for about 15 percent of the company's sales, up from 9 percent in 2012, and its share is increasing, according to the CEO. Demand for food covering tends to be more resilient to economic trends than industrial products, Hathorn said.
"Pets are the last things that get the budget cut," he said, referring to sales of pet-food packaging. "But in the human-food market also, people need to eat even if there's a recession."
While Mondi is constantly looking for acquisitions, the company is wary of overpaying, Hathorn said. The company said in February it expects to spend more than 500 million euros ($532 million) a year over the next two years as it invests to modernize and expand facilities, and is reviewing additional projects.
Mondi is satisfied with its office-paper business, which is a good cash generator, Hathorn said. The company will spend enough to make sure the unit continues to run well, and invest the rest of the proceeds in further growth in its packaging business.
"The greatest opportunity lies in the consumer area," Hathorn said. "It's the one that's least consolidated, it's the highest growth space and we've got the technology."
Source : www.bloomberg.com