Kenya outlines measures to lift fisheries sector
Posted on : Thursday , 26th November 2015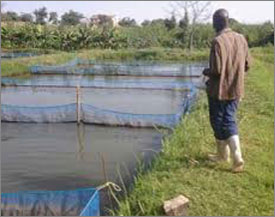 The Ministry of Agriculture has developed a raft of policy, regulatory and financing incentives to accelerate transformation of the fisheries sector that contributes 0.6 per cent to the country's Gross Domestic Product (GDP).
Speaking at an occasion to mark World Fisheries Day, Acting Cabinet Secretary for Agriculture, Adan Mohammed, said efforts to transform this sub-sector have gained steam to boost food security, exports and rural livelihoods.
"The Government is committed to development of a robust fisheries sub-sector as a means to boost export earnings, achieve food and nutrition security and create employment," Mohamed said.
Kenya has one of the most vibrant fisheries sector in the region thanks to state incentives that promote investments in aquaculture. According to the ministry of agriculture, the country earned Sh4.6 billion ($45 million) from the export of 10,165 metric tonnes of fish in 2013. In 2014, Kenya's total fish production stood at 193,106 tonnes.
The minister said the Government has accelerated the implementation of a strategic plan to transform the fisheries sector in line with vision 2030 blueprint.
"We have initiated a nationwide fish farming initiative and have developed a fish breeding improvement programme with an annual holding capacity of over 200,000 fish brood," said Mohamed. He said the country's marine and inland waters are grappling with habitat degradation and pollution that is to blame for declining fish species.
"In order to supplement fish production from the inland and oceanic waters, the Government has developed a robust strategic plan for aquaculture development," Mohamed said, adding that the Government has developed four fish processing plants in the country to enhance exports.
Japhet Ntiba, the Principal Secretary in the State Department of Fisheries said the Government will implement a strategy to increase fish production in the country by 10 percent annually. Kenya has seen an increase in commercial aquaculture enterprises to meet a huge demand in local and export markets. The next frontier is sea ranching that has potential to expand our fish production to more than twice the current level," said Ntiba.
Source : www.standardmedia.co.ke