Fertiliser firm to boost farmers productivity
Posted on : Tuesday , 28th July 2015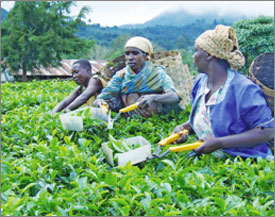 THE future looks bright for small scale farmers in Tanzania as their partnership with multinational conglomerates is improving farming practices and boosting yields.
The outgoing Country Manager for Yara Tanzania Limited, Pal Stormorken told the Business Standard that their engagement with agro-dealers, farmers and policymakers had created a solid foundation for increased productivity and improved agribusiness.
He said smallholder farmers in the areas they are working have scaled up their productivity through correct use of fertilisers and training on better farming practices.
Agricultural value chain had also improved to stimulate farmers to become more entrepreneurial and gain a better income, he said.
"The programme that we have created is absolutely right. I am optimistic about the platform we have established...They see the work we have been doing is helping the people to have better future," he said.
He said they focused on capacity building for farmers through training as they believe proper knowledge is an important factor in helping local farmers increase farm yields.
According to him Yara Tanzania had partnered with Unilever, another international organisation to work in a mixed business and development model aimed at improving and developing smallholder capacity to increase tea production and improve the household food and nutritional security situation.
Unilever is currently operating a 3,253 hectare tea plantation in the Southern Agricultural Growth Corridor (SAGCOT). It also locally sources green leaves from smallholder farmers through an outgrower scheme covering in total 200 hectares.
Unilever is aiming at 2,800 hectare expansion of the nucleus farm and support expansion of the scheme to 2,000 hectares by 2020.
The current stakeholder farmer yields at 500 kilogrammes per hectare are five times lower than the nucleus farm which has reached 3,000 kilogrammes per hectare.
He said they were working closely with The World Foundation Africa which runs a programme to reach out to a group of more than 2000 out growers and IDH which is targeting more than 200 out growers.
Their partnership is focused on training, ensuring product availability, practical sessions at Farmers Field Schools leveraging on the value of a balanced crop nutrition to increase crop yields and farmers income, he said.
Yara Tanzania had also signed a memorandum of understanding with BRAC, another international organisation that launched the Livelihood Enhancement through Agricultural Development (LEAD) project in Tanzania in 2013.
They signed the agreement to collaborate on the LEAD project targeting maize where they deliver a combined package fertilizer and improved seed appropriate for smallholder situation. "Farmers are taught to apply fertilizer in a more strategic and targeted manner.
The result is much higher returns on investment which allows them to invest more and gradually scale up production over time," he said.
YARA and another partner are supporting the LEAD project by establishing a one acre demonstration plots and providing training in good agricultural practices, he said adding the aim of the new partnership was to reach 40,000 smallholder farmers by 2017.
The partnership is also aiming at improving product availability amongst rural smallholder farmers. According to him, the objective of the partnership is to build capacity of 80 distributors and 80 agro dealers in the operational areas of the LEAD project by 2017.
Source : www.dailynews.co.tz