Kenyan tea factories get funding for power plants
Posted on : Wednesday , 9th December 2015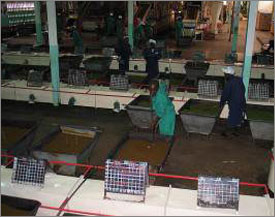 International Finance Corporation (IFC) will provide financing to seven small hydropower plants (SHP) that will generate power for tea factories in Kenya
IFC, a member of the World Bank Group, is providing a US$55mn loan in partnership with the Global Agriculture and Food Security Program, Proparco, and The Netherlands Development Finance Company (FMO). The money will be used construct the seven SHPs that will provide power to tea factories that are affiliated with the Kenya Tea Development Agency (KTDA).
KTDA operates 65 tea processing factories across Kenya, sourcing its tea leaves from 350,000 farmers who are shareholders in the company and co-own the factories. Energy accounts for more than 30 per cent of costs for the tea factories. The small hydropower plants developed by KTDA Power will supply 16MW of renewable, affordable power to the tea factories that will help reduce costs and increase savings for the farmers. The construction of the power plants is expected to create more than 2,000 jobs.
Lerionka Tiampati, CEO of KTDA, said, "Construction of three hydropower projects in Gura, Chania and North Mathioya are at advanced stages, funded by an earlier credit line from AFD (French Agency for Development). With the funding that we have received today, construction works for Nyambunde, Kiringa, Kipsonoi and Nyamasege SHPs will commence in 2016."
Oumar Seydi, IFC Director for Eastern and Southern Africa said, "Access to power is one of the key constraints for agriculture in Africa. KTDA is innovating to address power shortages by developing its own captive and renewable power supply. Reducing costs of processing will help make Kenya's tea sector more competitive in a global marketplace and increase revenues for the 560,000 farmers who supply green leaf to the 66 KTDA-managed tea factories."
On average, individual tea factories in Kenya spend approximately US$290,000 to US$625,000 annually on electricity, depending on factory size, crop level and other variable costs.
Source : www.africanfarming.net