ADB and AFD sign US$15mn agreement to support Ghana's rubber initiative
Posted on : Monday , 14th December 2015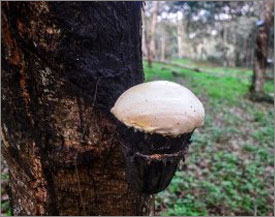 The Agricultural Development Bank (ADB) and Agence Francaise de Developpement (AFD) have signed a US$15.34mn finance agreement for the fourth phase of the Rubber Outgrower Project in Ghana
The AFD website states that the Rubber Outgrower Project is based on a tripartite agreement between ADB, as the financial operator, GREL, as technical operator, and ROAA (Rubber Outgrowers and Agents Association) representing the interest of farmers, and aimed at financing new outgrowers (excluding beneficiaries of previous phases) to develop 10,500 hectares of planting in the Western and Central Regions, each farmer planting a maximum of four hectares.
According to the agreement, ADB will lend money to 2,750 small-scale farmers on the Rubber Outgrower Project to cultivate new rubber plantations in the western and central regions of Ghana. The financing will be for 15 years with a seven-year grace period, said ADB's website.
With the technical assistance of France, ADB is hopeful the rubber industry in Ghana will get a much-needed impetus. AFD CEO Dov Zerah said that the project has helped plant more than 11,000 hectares, following which the organisation has decided to continue its support to the initiative.
Source : www.africanfarming.net