Osun Signs U.S.$50 Million Agric Pact With U.S. Firm
Posted on : Monday , 28th December 2015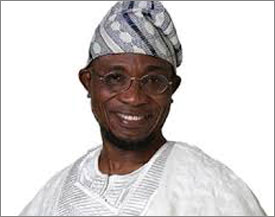 Osogbo - The Osun State government has signed a Memorandum of Understanding with a United States firm, JIL Farms Limited, for a $50million agricultural investment as part of efforts to re-invigorate the agricultural sector in the state.
The MoU covers development and infrastructure upgrade for breeding, fattening and processing of the cattle ranch and establishment of agricultural equipment leasing and hire centres to be managed by JIL Farm Limited.
Speaking shortly after signing the agreement, Governor Rauf Aregbesola thanked the investors for their interest in the state, saying Osun was predominantly an agrarian state.
"We cannot survive without the success of farmers. What has been sustaining the state is agriculture. If farmers succeed, they will fulfil their civic responsibilities and we all will be better for it", he said.
Aregbesola charged the people of the state to embrace agriculture for the prosperity of the state.
"We slumbered because of the oil windfall. All lands in Osun must now be available for agriculture. Farming is the only way we can work and progress without stress", he said.
Jerry Cunningham, an American animal husbandry expert and member of the JIL investment team, hailed the people of the state for their partnership.
"We had always wanted to do this and now we've got an opportunity. You're going to be number one in the country in animal husbandry with the latest technology we are deploying. We will not let you down. We've got all our equipment on ground". he said.
Cunningham expressed delight to work with indigenous farmers and transfer the best practices in animal husbandry and modern agricultural technology.
"We've got talents in Nigeria, but we've got to manage it. We will train your people to operate the equipment", he added.
Dr Ayoade Akere, leader of the JIL Farms Limited team, assured the governor and people of the state that the investors were poised to impact positively on the host community. He assured that hundreds of people would be employed while tourism would also be greatly improved.
As an offspring of the Osun Beef Chain Development (O-Beef) and Osun Rural Enterprise & Agricultural Programmes (O-REAP), the proposed ranch will be on 1,500 and 476 hectares of land in Ilawo town and Isatmosa farm in Iwo respectively. It is proposed to have all-year-round irrigation for controlled grazing for the breeding of cattle which will include the Tuli and Boran species, known to be highly adaptable to rainforest areas.
Source : allafrica.com