Nyiombo delivers over 50,000 tonnes fertiliser
Posted on : Monday , 4th January 2016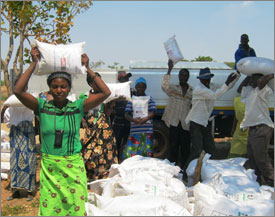 Nyiombo Investments Limited has delivered about 56,000 tonnes of top dressing fertiliser to six provinces for the 2015/16 farming season.
Government contracted Nyiombo to deliver fertiliser to the Copperbelt, Northern, North-Western, Muchinga, Luapula and Central provinces under the farmer input support programme (FISP).
Of the 56,000 tonnes, the company has delivered 52,000 tonnes, representing 93 percent as at December 30, 2015.
Company general manager Kwazi Dlamini said in an interview on Wednesday that all the consignment is already in the country, adding that what is remaining is delivering the inputs to the recipients.
Mr Dlamini said Nyiombo will still have excess stock of 30,000 tonnes which will be sold on the open market after all the fertiliser under the FISP has been delivered.
"The 30,000 tonnes comprises of both the top and basal dressing which can be bought from all our stores country-wide," he said.
He said the distribution programme is progressing well except for Mpongwe and Masaiti where the collection by farmers is slow.
Mr Dlamini named the areas where the company has finished distributing fertiliser as Nsama, Kaputa, Mkushi, Kitwe, Kasama and Luano, among others.
"We are scheduled to complete all deliveries this week and we will be within schedule," he said.
He said this is the first time the distribution of farming inputs will be done well before time, attributing the development to the early launching of the programme by the government.
On the challenges, Mr Dlamini cited limited storage space in districts as the major hindrance and also the slow collection of the commodity by farmers due to delayed rains.
Source : www.agribusinessafrica.net