Nigeria will turn out ten Million Metric loads of Rice Annually, Says IFAD President
Posted on : Wednesday , 13th January 2016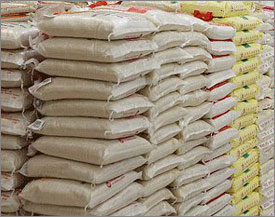 Awka - President of International Fund for Agricultural Development, IFAD, Dr. Kanayo Nwanze, has aforementioned that Federal Republic of Nigeria has the potential to provide ten million metric loads of rice annually if the specified infrastructure was put in place.
Nwanze, throughout a visit to the rice process clusters at Omor and Anaku rice manufacturing areas in Anambra State, explained that the country presently produces 3 million metric loads of rice and consumes about six million metric tons, adding that with the prevailing ideal surroundings for rice production in several parts of the country, attaining the ten million metric tons target would be met shortly to form Federal Republic of Nigeria a net exporter of rice.
According to him, the Country Programme Manager of IFAD, Dr. AtsukoToda, had expressed her determination to help the country achieve the desired objective.
During the visit, Nwanze was bestowed with the vision of Anambra State value Chain Development Programme for the rice process clusters within the state by the state programme arranger of IFAD, Mr. Nnamdi Agwuncha.
Agwuncha aforementioned that the state value Chain Programme was anchored on the Federal Government's strategic vision for strengthening the agricultural sector so as to realize food security, increase production, expand and improve rural economy for employment and financial gain generation, similarly as increase export and cut back food importation.
He aforementioned that participatory rural appraisal had already been conducted, adding that the constraints of the rice process clusters had conjointly been known.
Source : allafrica.com