Africa has new centre for Green innovation
Posted on : Wednesday , 27th January 2016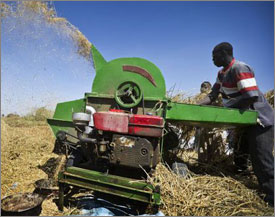 Africa has a new innovation centre aimed at boosting agricultural productivity, increase incomes of smallholder farmers and create job opportunities for the youth and women in various African nations
The Green Innovation Centre, inaugurated at Benin's AfricaRice, will particularly help Benin, Burkina Faso, Cameroon, Ethiopia, Ghana, Kenya, Malawi, Mali, Nigeria, Togo, Tunisia and Zambia.
Through this initiative, the exchange of knowledge and interaction between researchers and development experts in 17 communities will take place. The centre will focus on strengthening the agricultural innovation system by promoting partnerships and developing an operational framework for innovation. Researchers will develop a set of services and innovation that will serve as youth training tools and help increase sustainable productivity and incomes of agricultural producers.
Initially, four major commodities - rice, soybeans, small ruminants and poultry - will be focused on, but the centre will encourage inputs on other commodities as well.
The centre is supported by the Federal German Ministry for Economic Cooperation and Development (BMZ) in partnership with Benin Ministry of Agriculture, Livestock and Fisheries, and AfricaRice.
Aside from water and fertiliser, agriculture needs knowledge and innovation, stated BMZ minister Gerd Muller. The organisation has given around US$3mn to AfricaRice to implement the centre's activities in 2016 and 2017, according to AfricaRice knowledge management specialist Bernard Marc Winfried.
According to David Arodokoun, the director-general of National Agricultural Research Institute of Benin, African nations are yet to comprehend or develop technologies that could make agriculture and livestock production easier, productive and efficient.
Source : www.africanfarming.net