Dunkin' Brands plans to move into SA
Posted on : Tuesday , 28th July 2015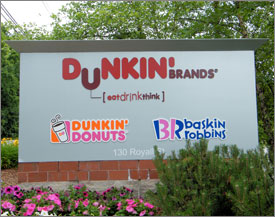 SOUTH AFRICA - NASDAQ-listed franchisor Dunkin' Brands wants to open 50 Baskin-Robbins outlets in SA over the next five years, the firm said on Monday.
The speciality ice-cream shops sell hard scoop ice cream and soft serve, as well as custom ice cream cakes and beverages.
A more brand-aware middle class with rising incomes are attracting other US consumer-facing giants such as Starbucks and Krispy Kreme who will also be expanding into the country.
Jeremy Vitaro, Dunkin' Brands vice-president of international development who is in SA to meet with potential local partners for the rollout, said SA was a high growth ice cream market. According to a recent Datamonitor study, the industry was worth more than R3bn in SA.
"The ice-cream market is a high-growth segment within the food space. SA has short-term challenges but it's an economy we believe in and a hub to develop Africa over time.
"The base of retail here is predominantly a mall-based structure which fits our brand much like the Middle East where we're very dominant," he said.
Dunkin Brands also owns Dunkin Donuts. The group's move follows an announcement earlier this year from UK based R&R Ice-Cream that it had purchased Nestle's South African ice-cream business for an undisclosed sum, to tap into the African market.
Nestle's portfolio includes King Cone and Eskimo Pie. R&R Ice-Cream is Europe's largest private label ice-cream manufacturer.
The South African ice cream category was being driven by two distinct factors, indulgence and refreshment, according to Euromonitor International.
"Dairy-based ice cream has seen the entry of more indulgent brands and flavours. These carry a high unit price, comparable to premium chocolate confectionery. Consumers purchase smaller 400g tubs of expensive, indulgent ice cream to treat themselves."
In the local market, Ola SA, a division of Unilever, holds 33% of the market measured by value. The company's biggest brands include Ola and Magnum, both with a 6% share, according to Euromonitor. Nestle SA holds a 29% value share, with its Country Fresh bulk ice cream leading the brand rankings (behind artisanal ice cream) with a share of 11% last year.
Out of home consumption is largely dominated by Famous Brands' Steers and Milky Lane chains, while KFC and McDonalds also offer a range of popular ice creams. At the premium end, Häagen-Dazs has about five stores across the country and its ice creams are sold at retailers and garage forecourts.
"We are aware of load shedding which would have an effect on any retail business so we will work with our partners on backup sources of power. Operating in malls will alleviate that too," Mr Vitaro said.
The group's stores can range between 20m²-100m² and its products are manufactured in the US and imported into markets for a consistent brand experience.
Source : www.africanfarming.net