Kenya signs Sh6.3bn AfDB loan for irrigation projects in 11 counties
Posted on : Thursday , 11th February 2016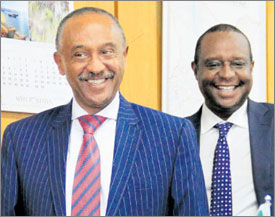 Kenya has signed a Sh6.23 billion financing package with the African Development Bank (AfDB) to fund small scale irrigation projects across 11 counties.
The money will be used to set up irrigation schemes on nearly 8,000 acres across the country and improve feeder roads to improve market access.
The facility is part loan (Sh3.95 billion) and part grant Sh2.28 billion, with the loan to be repaid in 25 years.
"The project will be implemented as a national project by the Ministry of Agriculture, Livestock and Fisheries in collaboration with the counties of Kitui, Makueni, Machakos Tana River, Bomet, Meru, Tharaka Nithi, Nyandarua, Muranga Kajiado and Nyeri," Henry Rotich, the National Treasury Cabinet Secretary said Thursday.
It is aimed at improving production of high value crops by the farmers in the mostly arid and semi-arid counties.
This will involve setting up of 12 irrigation schemes and another 60 micro irrigation schemes in these counties.
It is expected that the project will benefit 30,000 households with their average incomes expected to rise as they improve their agricultural output and have better market access.
The project dubbed Small-Scale Irrigation and Value Addition Project (SIVAP) comes after the conclusion of a similar one, also funded by the AfDB where 3,000 acres were put under irrigation.
"Its (SIVAP) major focus is to improve access to markets, drive productivity and boost storage and post-harvest handling technologies," said Gabriel Negatu, AfDB regional director for East Africa.
The loan is advanced on non-concessionary terms and is pegged on the London Interbank Offer Rate (Libor) but Mr Rotich added that the rates offered by AfDB are still much better than the open market.
Mr Rotich directed that the project's implementation begin within the next six months to ensure value for money and conform to the lender's conditions.
"According to the bank's rules, first disbursement must occur within a maximum of six months from the date of approval. There is a new presidential directive to firmly implement this rule," he said.
Kenya is keen to break away from reliance on rain-fed agriculture to produce more food from irrigation.
This project which emphasises many small irrigation schemes across the country is different from the government-sponsored Galana-Kulalu which is a single large scheme of one million acres.
Source : www.agribusinessafrica.net