Zaad and Chromatin Agree to Produce and Distribute Sorghum Seed in Africa
Posted on : Friday , 1st April 2016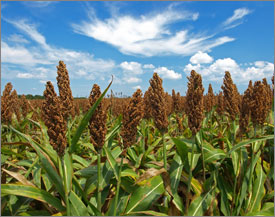 Chromatin, Inc. and Zaad Holdings LTD, announced today that they have entered into a long-term alliance to produce and distribute planting seed for grain and forage sorghum throughout the African continent.
Zaad, a vertically integrated agriculture company, distributes seed to Africa's growers through a network of subsidiaries and established brands. Chromatin, an agriculture technology company, owns and develops grain and forage sorghum varieties, including high-yielding hybrids adapted to growing conditions throughout Africa.
In Africa, sorghum is used in the food and beverage industry and as animal feed. The crop conserves water resources, providing food security in areas where fresh water is limiting. Over 40 million hectares in Africa are planted annually to sorghum, but most is derived from saved seed, an option that often results in low yields.
Alliance activities will be managed by Charles Miller, Chromatin's Vice President of Business Development and International Sales. Under the agreement, Chromatin will develop and provide seed stocks that will be produced locally by Zaad's network of growers.
"We are very pleased to access the experience of the Zaad network of growers and distributors in Africa," said Daphne Preuss, Chromatin's CEO. "This relationship will significantly advance our efforts to bring high quality sorghum seed products to Africa's growers at a competitive price."
"We are impressed with Chromatin's commitment to sorghum," said Antonie Jacobs, CEO of Zaad Holdings. "This agreement will provide Zaad access to the latest developments from Chromatin's global sorghum breeding program, and will enable distribution of high quality sorghum seed throughout Zaad's extensive sales channels."
Source : www.businesswire.com