Ethiopia secures Chinese funding for sugar project
Posted on : Tuesday , 28th July 2015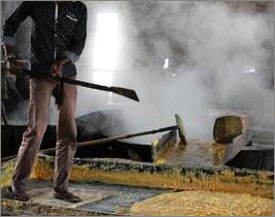 The Ethiopian government has secured financing from a Chinese bank for Kuraz V, the fifth factory in the Omo-Kuraz Sugar Project
Industry and Commercial Bank of China (ICBC) will provide US$700mn as a loan for development of the sugar plant and other related infrastructure for Kuraz V. The agreement was signed during an official visit by a Chinese delegation to Addis Ababa which was headed by the chairman of ICBC's board of directors, Jiang Jianqing.
During the meeting of the delegates with Prime Minister Hailemariam Desalegn, Jianqing said that the bank is ready to further collaborate with Ethiopia in industry and infrastructure development sectors in the future. The prime minister indicated that the request of Chinese financial companies to jointly work with Ethiopia is of mutual benefit to both the countries.
The Export-Import Bank of China (EIBC) had earlier agreed to extend a US$550mn long-term loan to Kuraz II and III projects in the Omo-Kuraz Sugar Project.
The Ethiopian Sugar Development Corporation has recently signed a Memorandum of Understanding with UAE-based EPC Sharjah and India-based Five Cail-KPC India for vendor financing arrangement to start the construction of Kuraz IV. The two companies are expected to secure either full or partial financing for the project within the next six months. The amount of financing required has not been disclosed yet.
The Omo Kuraz Sugar Project consists of five sugar plants. Kuraz I is currently under construction by Metals and Engineering Corporation and it is about 90 per cent complete. Kuraz II and III are being built by two Chinese companies with the finance that was secured from EIBC.
Source : www.africanfarming.net