Olam eyes potential of Africa's growing demand
Posted on : Friday , 1st April 2016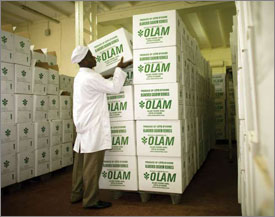 Olam International, one of the world's largest food traders, is seeking more investments in Africa as it looks to benefit from the continent's increasing appetite for everything from instant noodles to lollipops.
The agribusiness giant controlled by Temasek Holdings is already established in 24 sub-Saharan countries. It aims to expand its market share across a continent rich in agricultural resources including coffee and cocoa.
Chief executive Sunny Verghese said Africa's growing middle class and its demand for more packaged food presents increased opportunities for investment in brand-name foods as well as raw materials such as rubber, cotton and lumber, outweighing threats ranging from political unrest to terrorism.
"The risks are slightly higher, but the rewards are better," Mr Verghese said in an interview earlier this month. "It's a good bet to make."
Olam's sales from Africa climbed to S$4.13 billion in 2014 from S$1.7 billion in 2010. Its packaged food operations in Nigeria, Ghana and South Africa have chalked up sales of US$350 million to US$400 million (S$483 million to S$553 million) a year since 2005, when they were started.
The company wants to increase its integration along the production chain from seed to consumer, Mr Verghese said, like sourcing the oil and flour in Olam's Tasty Tom brand cooking oil and pasta from oil palm crops it grows and the wheat mills it purchased.
Some brands owned by Olam are already household favourites in Africa, including Chic Choc biscuits, Tasty Tom tomato paste and Cherie instant noodles. In Nigeria, the most-populous African nation with 178 million people, Olam's brands are ranked in the top two in five out of eight food categories, and it is also the most-preferred manufacturer of creams and wafers and confectionery sweets, according to the company.
Olam is not alone in looking to benefit from Africa's growing middle class, said Mr Carey Wong, research manager at OCBC Investment Research in Singapore.
"When people's incomes increase, the quality of food also increases," Mr Wong said, adding that being integrated from farm gate to consumer helps companies benefit further from that growth. "Since they own the whole value chain, they can adjust prices... when they want, rather than wait for suppliers," he said.
Olam shares climbed as much as 0.6 per cent in Singapore trading yesterday, ending 0.3 per cent lower at S$1.730 a share.
Olam will also focus on strengthening its position, limiting its total capital employed in any one African country to 10 per cent, Mr Verghese said. "We don't think we will get into many more new countries - there'll be one or two countries we'll get into. It's going to come from getting deeper into and investing more in our existing geographies," he said.
"Africa's growth will be long term, and it will continue to grow for the next 40 to 50 years," he added. "We have particularly good operating and risk management capabilities to manage the African risk slightly different, or better, than a lot of others."
Source : www.straitstimes.com