Lexmark unveils next generation 7 & 8 series printers
Posted on : Friday , 1st April 2016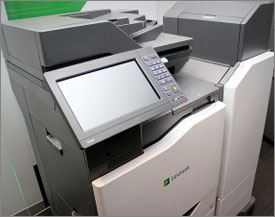 Lexmark International has revealed the arrival of its next generation A4 colour lasers and smart MFPs featuring seven new series.
"Many of the new colour laser devices in this series deliver one of the highest toner capacities in their class and industry-leading long life imaging components, resulting in fewer user interventions and Lexmark's best-ever colour total cost of ownership," says Nathan Nayagar, Managing Director for Lexmark - South Africa & English Speaking Africa.
Lexmark's new A4 colour smart MFPs address a continuing rise in MFP activity in both the enterprise and SME sectors - the A4 color MFP segment is the fastest growing market segment in the print and imaging industry.
"This Lexmark-created, game-changing technology brings together the best of A3 and A4 technology in a new way, designed to optimise for managed print services and business process solutions," says Nayagar.
According to the company the printers are driven by a quad core processor, these models boast among the fastest print and copy speeds available in their respective A4 classes.
The products featured in the new line include: Lexmark CS720, CS725 and CS820 Series Printers, Lexmark CX725, CX820, CX825, CX860 Series MFPs.
According to the company, this champion offering, the CX860, offers one of the highest toner capacity, the largest input/output capacity and the most flexible media support of any A4 color laser MFP. The CX860 is so advanced it rivals the capabilities of A3 products, enabling businesses to bring colour production in-house.
Each new device supports Kofax TotalAgility from Lexmark, enhancing the omnichannel capture strategy and helping businesses become more efficient.
According to Lexmark it is changing the customer experience through introduction of a new tablet-like interface, providing outstanding ease of use. The new MFPs also are complete with productivity enhancing solutions such as the new unified Scan Center app. The app means users can scan a paper document once and route the digital image file to multiple destinations simultaneously such as email addresses, network folders, FTP sites, fax machines, electronic document archives or other secure network locations, plus optional delivery confirmation.
Source : www.itnewsafrica.com