Tanzania to get mobile apps for soil testing
Posted on : Monday , 3rd October 2016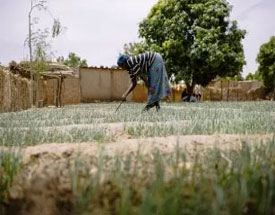 Kenya-based Capture Solutions has announced plans to extend its business to Tanzania by introducing various mobile phone applications, including the use of mobile phone applications that help farmers in improving their productivity levels. The firm's managing director, Lawrenzo Boncompagni said that some of its proposed services include kits for testing soil fertility and providing data on weights and measurements of farm products.
"Wherever a farmer is located, he/she can get information on soil fertility using mobile phone applications. The technology is already practised in Kenya and we hope to bring it to Dar es Salaam in September this year," he said.
Boncopagni explained that the app works via a soil testing kit that can be connected to mobile phones and a card for storing, receiving and sending information.
The company has already established a branch in Tanzania. According to the company figures, Capture Solutions has about 200,000 subscribers who use their smart phones to get access to the applications.
Capture Solutions Tanzania CEO Emmanuel Ngalla said that there is a huge market for mobile phone applications that could provide various solutions to farming practices such as marketing of agricultural products, grading of farm products, branding and agribusiness promotions.
According to Martin Mgallah of the Agricultural Markets Development Trust (AMDT), adoption of such mobile phone applications will help to boost agricultural productivity in Tanzania, given the rapid increase in the number of mobile phone users.
Source : http://www.africanfarming.net/