EFI Unveils Jetrion Label Inkjet Production And ERP Workflow
Posted on : Tuesday , 4th October 2016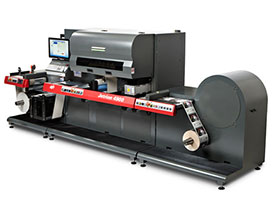 Electronics For Imaging (EFI) unveiled the enhanced EFI Jetrion 4950lxe LED inkjet narrow-web press with white ink, driven by advanced EFI Fiery software for digital label production.
The new Jetrion 4950lxe version of EFI's highly productive LED inkjet narrow-web inkjet label press helps customers create new opportunities with its expanded capabilities. Converters can extend their food-packaging applications into digital label production thanks to the press's new low-migration ink for non-food-contact surface production. The press also offers a higher, 720 x 1260 dpi resolution for even better print quality, and increased durability and gloss level control using EFI Armor UVF and UVR coatings.
This new Jetrion press version also offers extended versatility as it includes media compatibility profiles for a broader range of labelstocks, including Avery Dennison substrates used for durable labels and wine applications.

EFI customer ColorZone exemplifies the success Jetrion users worldwide have been able to achieve by creating new market opportunities. Located in California's wine country, the company got its start producing wide-format display and signage work using EFI VUTEk superwide-format technology and other printers, but expanded to capture short-run, multi-SKU and just-in-time label production opportunities with a Jetrion LED inkjet press.

Optional in-line finishing equipment available from EFI make Jetrion one of the only digital press brands that enables users to take in blank substrate rolls on one end and receive complete, die-cut, slit and back-scored rolls at the other.

The new version 4.1 of the EFI Packaging Suite at Labelexpo includes certified workflows that provide unprecedented levels of business and production automation geared toward real-world label and package converting environments. Each certified workflow combines the core EFI Radius ERP software with modular, integrated components from EFI's industry-leading portfolio, as well as with key third-party technologies, such as Esko's Automation Engine.

One of the components in the Suite, the new Auto-Count 4D shop floor production intelligence platform, is making its worldwide debut. This innovative new component automatically collects accurate, up-to-the minute production data including counts, press status, speed and other critical information directly from production equipment in real-time. Through full plant visibility and data-driven reporting now in a browser based environment, packaging printers can have all of the information they need to make decisions in seconds.

Other new Packaging Suite workflow enhancements include:
. Intelligent estimating and planning with EFI iQuote software.
. Automated planning optimisation with EFI Metrix software.
. Centralised, role-based productivity widgets with the Suite's Productivity Workbench.

EFI is addressing the production demand of new ultra-high-speed inkjet packaging presses coming to market with the Packaging Suite. The 2016 Graph Expo Must See 'Ems award-winning automated digital pre-production workflow takes job specifications from the Suite's core Radius ERP solution and runs them through Esko's Automation Engine and EFI's Fiery XB digital front end platform. Using this workflow, converters will be able to automatically populate the print queue on new, ultra-high-speed inkjet packaging presses, saving valuable prep time.

Source : http://www.africaprint.com/