Plastics division lifts Transpaco bottom line to outperform peers
Posted on : Tuesday , 4th October 2016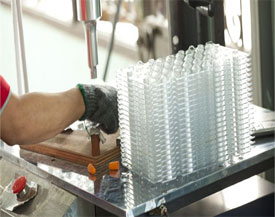 Packaging group Transpaco, renowned for its no-frills operational approach and smart acquisition strategy, defied sluggish economic conditions to post a 38% increase in the bottom line in the year to end-June.
Its more illustrious peers, such as Nampak and Astrapak, have struggled in tighter trading conditions in SA.
Transpaco CEO Phil Abelheim said the performance was supported by controlled operating costs through improved manufacturing, distribution, and administration efficiencies.
Despite higher input costs - particularly in labour, energy, and raw materials - Transpaco fattened its margin to 9.2% from 8.1% in the previous financial year. Abelheim said a robust performance from the plastics division, including a strong contribution from recently acquired East Rand Plastics, pushed Transpaco's turnover up 26% to more than R1.7bn.
The company's divisional review showed turnover in the plastics division had grown 37% to R1.23bn.
The top-line growth in the smaller paper and board products division was more pedestrian, increasing just more than 5% to R481m. Operating profit in the plastics division surged 76% to R100m, while the paper and board products segment showed a slight decline to R50.9m.
Opportune Investments CEO Chris Logan, a shareholder in Transpaco, said the company had delivered great results over time by sticking to its knitting and transforming "other packaging companies' discards into gems".
In recent years, Transpaco has acquired unwanted businesses from Nampak and Astrapak.
Logan said Transpaco had outperformed packaging peers - sometimes to a huge extent.
"It remains a pity Transpaco has not been able to improve its liquidity to enable more investors to share in its success," he said.
The company has fewer than 33-million shares in issue and more than 50% of these are held by just four shareholders. Value asset manager Aylett had bought a 5% interest in Transpaco's shares, Transpaco said on Wednesday.
Transpaco's headline earnings of 330c per share were underpinned by reassuring cash flow from operations at R139m. Net cash flow came in at about R52m - or 157c per share, and supported the full-year dividend payout of 150c per share - 40% higher than the previous year.
The dividend was covered a generous 2.2 times by headline earnings. Logan said Transpaco had increased dividends by a compound annual growth rate of almost 16%.
Looking ahead, Abelheim cautioned that a challenging trading environment prevailed. But he contended Transpaco would continue to target organic growth by maintaining strict financial control.
The firm would continue to identify and pursue appropriate acquisitions, he said. Transpaco had a stout balance sheet and was in a net cash position, he added.
Source : http://www.bizcommunity.com/