Africa aiming greater acceptance of genetically engineered crops
Posted on : Friday , 29th March 2019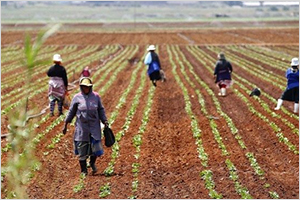 Nigeria's stand to sanction the growing of genetically engineered Bt cotton and Bt cowpeas could prove to be a watershed moment for the adoption of biotech breeding innovations across Africa. So, its decision in this arena is almost certain to influence the actions of other African nations.
The country's acceptance of GM crops could encourage other African governments to stand up to the vocal anti-GMO forces that make unsubstantial and unscientific allegations about the supposed dangers posed by GMOs towards human and animal health and the environment.
Ethiopia which is the second most populous African nation, approved Bt cotton in 2018. The regulatory report that was put out following the trials said: "GM cotton is safe for the environment and human health." Confined trials of Water Efficient GM corn are being conducted.
Kenya is most likely to sanction the commercialization of Bt cotton by 2020. This decision follows successful trials by the National Environmental Management Authority. Dr. Charles Waturu, the Director of the Horticulture Research Institute, which conducted one of the trials noted, "Compared with the conventional cotton seeds that produce about 2,500 kg per acre, Bt cotton yields are double."
It is predicted that Bt cotton will help to revive the morbid textile industry. Currently, Kenya produces about 20,000 bales of cotton a year (a bale weighs 184kg). The difference is met via imports. Dr. Waturu believes that Bt cotton could potential boost cotton output to as much as 260,000 bales.
Uganda, has one of the most extensive field testing of GM crops in Africa and has approved a Bio-safety Law which should open the door to the commercialization of GM crops, if they are approved from the nation's president. This bill was originally passed by parliament in October 2017 but President Yoweri Museveni declined to sign it citing a variety of concerns. In 2018, a second measure - the Genetic Engineering Regulatory Bill - was passed to address many of those concerns.
Researchers have expressed concerns over a liability provision of the law, which would make the owner of any patent legally responsible for any effects resulting from its creation and use. A plant biotechnologist, said the clauses regarding strict liability, labeling GMOs and the distances required between GM field tested crops and conventional crops to ensure there is no contamination of convention crops could inhibit research and development of GM crops and would also deter small farm owners from cultivating GM crops.
Rwanda took its first steps towards cultivation of GM crops in January 2018 when the Rwanda Environment Management Authority drafted a law governing GMOs. The objective of the bill was to ensure an "adequate level of protection in the field for the safe transfer, handling and use of GMOs." Dr. Patrick Karangwa, the Head of Research Department at the Rwanda Agriculture Board, said, "Rwanda is building capacities in research and biotechnology" to make the most of GMOs.
It seems that most of the African nations in the near-future will join the ranks of the countries that cultivate GM crops. These crops will help Africa feed its growing population and to boost agricultural production and farm income thus helping to spur economic growth.
Source :