Groundnut's massive Ghana export potential
Posted on : Friday , 31st July 2015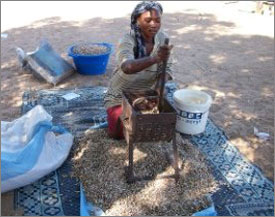 The general manager of the Ghana Export Promotion Authority (GEPA) has spoken of groundnut's huge potential for export
Speaking at the conclusion of a three month training programme for export-oriented chain operators in Navrongo, Stephen Normeshie said his organisation had identified groundnut as one of the major cash crops of the future for the West African country.
"Ghana, with its favourable climatic conditions and abundant rich soil, has a comparative and competitive advantage in groundnuts and cereal exports, and hence, is well positioned to take advantage of the international market opportunities to develop the sector," Nomeshie explained.
The crop, he said, could play an important role in achieving the government-appointed target of US$5bn from non-traditional exports by 2019, in accordance with GEPA's National Export Strategy.
Nomeshie also claimed groundnuts could be the key to reducing poverty in the rural north of Ghana, although he was keen to point out the need for investment from the government, private sector and NGOs in order to unlock the crop's full potential.
Source : www.africanfarming.net