DTM Print Launched The Brand New DTM CX86e Color Tag Printer
Posted on : Tuesday , 8th October 2019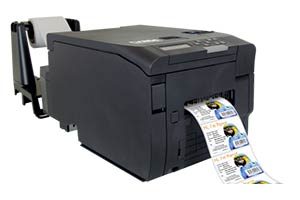 This new digital printer is designed to help companies produce versatile and professional color labels and tags.

It is said to be world's smallest LED dry toner color label printer. The CX86e uses the latest digital LED technology.
The DTM CX86e can produce high-quality, full-color prints that include vouchers, coupons, value-added receipts, ID tags with photos, visitor badges, price and promotion stickers, pasted labels,sleeves, loop ribbons or labels for cardboards and boxes - within seconds.
Andreas Hoffmann, managing director of DTM Print explains, "As LED printheads have no moving parts, unlike the classic laser technology, significantly less raw materials are consumed in the manufacturing process, and a space-saving design and a significantly longer service life are achieved. With a size of 198x195x380 mm (WxHxD) and a weight of 9.5 kg, the CX86e is more compact, robust and reliable than other printers in its class. This means it can be used almost anywhere and is easy to transport."
At the time of electrophotographic LED printing process, the image is developed on a light sensitive drum, then it is transferred by electrostatic charge via an image transfer belt and fused by heat to the media. The labels produced that way are pin sharp, waterproof and UV-resistant.
The company paid special attention to a simple operation. Users just need to change a three-color toner cartridge that guarantees thousands of prints. This eliminates the need to stock individual toner cartridges and the device is ready to use again in just a few seconds.
With a wide range of interfaces such as USB, Ethernet, WLAN (optional) and control interfaces, the CX86e can be used as a stand-alone unit, in a network or in an automated environment without any problems.
Further components of the printer, such as drum unit, transfer belt and fuser, have been designed for a long service life with more than 100,000 prints and can also be replaced by the user in a few seconds.
DTM CX86e color tag printer sells for EUR 2,195 (MSRP) and is available through authorized DTM Print resellers and distributors in Europe, Middle East and Africa.
The DTM CX86e is easy to set up and operate. The delivery includes the printer driver for Windows 7/10 and the design software NiceLabel Free 2019 DTM Edition (for Windows) for simple creations of label designs. For data import and variable data printing the full version is needed. The printer can also be used with other popular label design software such as BarTender and graphic software such as Adobe Illustrator and other Windows applications.
"With the DTM CX86e, we are offering companies a powerful and cost-effective printer to achieve maximum advertising impact with their produced labels and tags, to attract the customers' attention and to ensure higher sales," adds Hoffmann.
Source :