UNIDO To Boost Agro-Industrial Development In Ethiopia
Posted on : Monday , 21st October 2019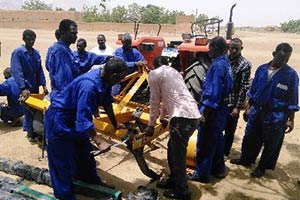 The United Nations Industrial Development Organization (UNIDO) and the Ethiopian Ministry of Trade and Industry agreed on the delivery of technical cooperation services within the capacity development component of the Integrated Agro-industrial Park Support Project (IAIP-SP), which invites to achieve inclusive and sustainable agro-industrialization through the further development of four pilot IAIPs and of related agricultural value chains.
The signing of the agreement is the result of a long-term cooperation between the Ministry of Trade and Industry and UNIDO under the Programme for Country Partnership (PCP) for Ethiopia.
UNIDO Regional Director Aurelia Calabro, said "UNIDO will continue to support the Government in developing an comprehensive and sustainable agro-industrialization."
"The Government is pledged to achieve middle income status by 2025", said State Minister of Trade and Industry Ato Teka Gebreyesus.
"This requires reaching higher levels of industrialization, and ensuring the creation of inclusive and sustainable jobs through linkages between the parks and local MSMEs, particularly youth and women-led businesses", Ato Teka Gebreyesus said.
In fact, the development of IAIPs is one of the key PCP components and a priority in Ethiopia's national development strategy.
The IAIP-SP is focused on sanctioning infrastructure for agro-industrial development and capacity building for sustainable agro-industrialization, with a project coordination and management component.
As such, the project contributes to the broader 'Promotion of Sustainable Ethiopian Agro-industrial Development' (PROSEAD) initiative, which resulted from common efforts of the Government of Ethiopia, the European Union (EU), the African Development Bank (AfDB), the International Fund for Agricultural Development (IFAD), the Agence Francaise du Developpement (AFD), the African Development Fund (ADF), the German Society for International Cooperation (GIZ), the Italian Agency for International Cooperation, and UNIDO.

Source :