Mushroom helps Tanzania farmers fight climate change
Posted on : Tuesday , 21st July 2020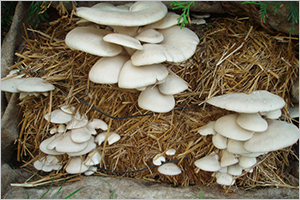 Due to climate change, farmers across Tanzania have switched to growing protein-rich oyster mushrooms to raise incomes, improve livelihoods, and protect forests.
Tanzania has one of the highest rates of deforestation in sub-Saharan Africa, with around 372,000 hectares of forests destroyed every year, according to the UN Food and Agriculture Organization.
While mushrooms have traditionally been eaten in different parts of Tanzania, most farmers picked them from the wild and did not grow them commercially. The government and various non-profit organizations are now touting commercial production of oyster mushrooms, to increase incomes and curb deforestation. Local farmers, who depend on rain-fed crop growing and charcoal burning, are learning new skills to grow environmentally friendly mushrooms.
Tanzania is endowed with a rich diversity of wild edible mushrooms and people like to gather and sell them at the market and on roadside stalls. Over 60 edible mushroom species have been identified and are eaten as wild mushrooms. Rich in vitamins, mushrooms are a valuable and relatively cheap source of proteins.
The east African country has the potential to produce large quantity of cultivated mushrooms due to the presence of agro residues potential raw materials for growing mushrooms.
According to Tanzania Mushroom Growers Association, there are more than 10,000 mushroom growers in the country producing 1,920 tons of oyster mushrooms annually. Farmer in Tanzania's northern Manyara region has noticed that mushroom farming is the way forward to improve her livelihood.
Many farmers in this region have repeatedly experienced dismal crop yields due to drought, partly caused by the impacts of climate change. With the help from agricultural experts from Farm Africa a global charity striving to lift poor farmers from poverty mushroom farm a growing business, attracting customers.
The multiple initiatives in line with Sustainable Development Goals to reduce poverty, hunger, create decent work, and foster economic growth, the east African country is trying to increase resilience against climate change. With funding local and international organizations, more farmers have adopted oyster mushroom business to raise their incomes.
Forest ecosystems are ideal places to set up mushroom growing facilities, which need to be dark, warm, and moist, a government extension officer and agricultural expert in Morogoro. Farmers get profits from growing protein-rich fungi due to its short production cycle. Efforts to promote protein-rich mushrooms intensified a decade ago due to the rising demand of the fungi for commercial and domestic consumption.
To raise awareness of mushrooms as a food, Farm Africa organized regular food galas to show different mushroom dishes. "They need better storage facilities and more outside markets, not just domestic ones".
Mushrooms can be grown in small scale, at lower cost, and within a short time. He said it is a practice that can be adopted by small-scale farmers to help them diversify incomes in dry season, when drought may challenge conventional farming, and reduce their vulnerability to adverse weather. "The crop has the potential to improve livelihoods and increase incomes, and prevent destruction of forests".

Source : aa.com.tr