Coca-Cola's alliance with local stakeholders in recycling plastic waste
Posted on : Monday , 21st September 2020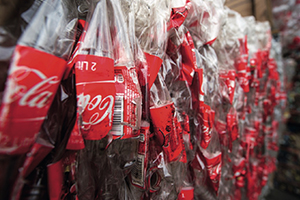 Coca-Cola has put its foot down on plastic waste and is working towards downsizing of plastic waste in the environment in Africa. In Uganda, Coca-Cola Beverages Africa (CCBA) the subsidiary of the global giant Coca-Cola have recently tied up with several local bodies, like Stanbic Bank Uganda, a branch of Standard Bank; and a Ugandan supplier of plastic equipment called Nice House of Plastics.
Anne Juuko, Managing Director of Stanbic Bank Uganda. Commented "The purpose of this collaboration is to promote "an accountable use and recycling of plastic waste to step towards sustainable environmental protection". This is the first-of-its-kind in the country (Uganda), where a private sector collaborator will work together supporting sustainable plastics recycling in an environment directed by the added value to generate products and conclusively protect the environment."
As the venture is supported by the Kampala City Council (KCCA), financial push to compile and recycle plastic waste will be provided by the Stanbic Bank Uganda will. Coca-Cola Beverages Africa (CCBA) is among the dominat producers of plastic waste in Uganda, containing its soft drinks sold in plastic bottles. As CCBA is devoted in collecting and supplying flakes of plastic waste to the Nice House of Plastics.
These flakes will be utilised by The Kampala-based Company as a raw material to manufacture equipment like chairs, containers and crates for the storage. The Managing Director of Nice House of Plastics, Barbara Mulwana Says, "Recycled plastic waste is one of the main raw materials used in our processes. We have formerly imported some of it and this association will take us a long way in getting a solution for our raw material problem and promoting a safe environment".
The eagerness of CCBA along with its partners is working along the strategy of Coca-Cola's in reducing the environmental impact by recycling of plastic waste. With this new soft drinks manufacturer has brought forth a new range of returnable bottles which will be made available in Africa soon.
Source : aa.com.tr