Egypt looking at farming in sub-Saharan Africa
Posted on : Thursday , 6th August 2015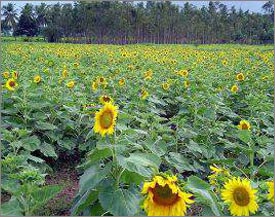 To tackle its food shortage, exacerbated by water scarcity, Egypt is working towards forming agricultural alliances with countries in sub-Saharan Africa
Plans include sending Egyptian farmers to cultivate land in Sudan and DR Congo to transfer their expertise to those countries and take advantage of the available water to cover the food needs of the Egyptian people.
Countries such as Sudan and DR Congo have an abundance and diversity of water sources but declining agricultural development due to lack of funding and agricultural machinery.
At the Arab Summit in March this year, Sudanese President Omar al-Bashir had put forth an Arab food security initiative that will allow Egypt to cultivate thousands of acres in Sudan. In April, the Sudanese government announced the allocation of land in several water-rich areas where Egyptians can implement joint projects in food security and by using the agricultural integration programme.
In the first stage of the project, about 81,000 ha of land in Damazin and Kassala was allotted to Egyptian farmers where they are growing sunflower and cotton.
Hossam el-Moghazy, Egypt's minister of water resources and irrigation, visited DR Congo at the end of May this year, to activate the cooperation protocols under which Egyptian farmers will contribute to the cultivation of land in the country. Egypt is working to establish a farm in the Menkao area in Malaku city which is about 70 km north of Kinshasa. The farm's size will be 600 ha, half of which will be cultivated with crops currently unavailable in Congo, such as corn, sunflowers, soybeans and rice. The farm output will be divided evenly between the two countries.
Cultivating land in developing countries has become Cairo's way to overcome the water shortage hindering the expansion of agricultural land in Egypt. Efforts are also aimed at establishing model farms for strategic crops in a number of other sub-Saharan countries, including Mali, Niger and Zambia.
Source : www.africanfarming.net