Africa's way of life with snacks and it's packaging industry
Posted on : Thursday , 1st April 2021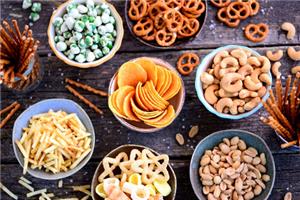 In 2020, Africa's snack food market was projected to be worth USD 2.15 million. In the forecast period of 2021-2026, the market is projected to expand at a CAGR of more than 4%, reaching a value of nearly USD 2.73 million by 2026.
Snack food packaging includes a variety of strategies for keeping snacks fresh and convenient to eat. Snack food manufacturers are considering a variety of choices, including cardboard tubes and lightweight pouches.
Due to increased consumption of snacks and edibles, the global demand is expected to rise significantly over the period. The adoption of healthier lifestyles by the general public and the introduction of retail stores in metropolitan areas have the potential to propel the industry forward. Other factors driving market growth include product appeal, nutritional value recognition, product variety, and an ageing population. Snack food packaging market growth could be aided by increased development of sustainable packaging and consumer comfort in handling small packages. Changed atmosphere packaging (MAP) is being integrated into bags and pouches to prolong the shelf life of items. Chemical resistance and mechanical strength of packages are becoming increasingly relevant in consumer packaged goods.
However, stringent regulations regulating the use of plastics in the packaging process can stifle market expansion. Due to myths about the virus's transmission through food, the COVID-19 pandemic had an effect on snack food manufacturers' supply chains. Manufacturers of snack food packaging, on the other hand, are taking more stringent steps to preserve foods and beverages in order to avoid bacterial growth and illnesses. Manufacturers have observed a change in consumer eating habits, which is reflected in new packaging.
In the global snack food packaging industry, digital printing is sure to gain traction. Packaging design is crucial and plays an important role in attracting customers. It outperforms offset printing in terms of brand recognition and can be used in limited stock-keeping units (SKUs). Digital printed labels with product details and brand design are in high demand by snack food companies due to their sustainability and customization choices.
Trade dress is gaining momentum as a way of safeguarding the intellectual property of businesses that build brands. Digital printing has the ability to help businesses differentiate their distinct identities and escape lawsuits. Increased capability of digital printers will lead to innovation breakthroughs.
Rapid industrialisation and urbanisation in Africa have resulted in a major change to western food culture. It is also one of the main factors of business expansion. Some regions also have some of the fastest-growing populations in the world. This, combined with the rising middle class and rising disposable incomes, is stifling the region's extruded snack food market growth.
The growing global snack foods market, which is being driven by a variety of factors, is also favouring the African market. Manufacturers adjust and expand their products on a regular basis to keep up with changing consumer demands. They offer snacks in a range of sizes, textures, seasonings, flavours, and ingredients, broadening their portfolio and positively impacting market development. Manufacturers have been motivated to make more nutritious extruded snacks in response to the demand from health-conscious consumers.
Source : www.globenewswire.com