In-mold label container market expected to propel with the Growth of food industry in Africa
Posted on : Tuesday , 4th May 2021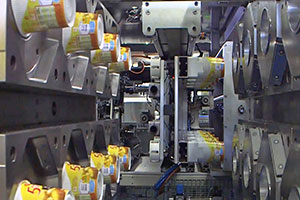 In-mold labelling is a method of applying plastic or paper labels to containers directly using injection moulding, blow moulding, or thermoforming. The labelling process is integrated into the container manufacturing process. This method ensures high-resolution images as well as the ability to mark containers in a single phase, resulting in reduced development time and design changeovers. Since in-mold labelled products resist temperature changes, they are also ideal for refrigerated products. They aid in the reduction of resources used in two processes: container processing and labelling.
The label and the container are made of the same material, and the label is integrated into the container wall during the moulding process, allowing them to be entirely recycled. Due to its multilayer barrier properties, in-mold labelled containers often meet the end-users' need for high barrier and retortable packaging.
Because of its potential to extend the shelf life of packaged goods, the food and beverage industry has favoured oxygen barrier in-mold labelled containers. Packaged food consumption has increased dramatically in recent years. As the market becomes more competitive, the need for appealing packaging and labelling has risen significantly.
The ultraviolet barrier in-mold labelled containers are suitable for retort packaging and high temperature filling processes, as well as protecting the organoleptic properties of high-fat products. These factors are expected to propel the market forward.
The demand for in-mold labelled containers in Africa is not far behind that of other countries, with fast-moving consumer goods and durable goods manufacturers being the most prominent end-users.
Source : www.clarkcountyblog.com