Barrier Films the future of food packaging
Posted on : Tuesday , 3rd August 2021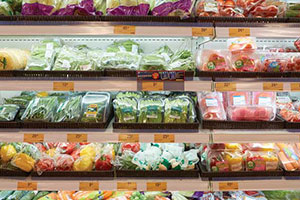 In the projected period of 2021 to 2028, the barrier films market is expected to increase. From 2021 to 2028, the market is predicted to increase at a CAGR of 4.7 percent, reaching USD 211.84 million by 2028, up from USD 150.49 million in 2020. In the projected period, the market's demand will be boosted by the increasing use of barrier films in food and beverage product packaging. Africa is predicted to develop at a CAGR of 5.0 percent with a significant growth rate from 2021 to 2028, as the country focuses on expanding the use of barrier films in a variety of applications.
Barrier films are a form of packaging film that is frequently used in the food and beverage industry to extend the shelf life of food goods while also protecting them from a variety of environmental factors, such as oxygen and moisture. Barrier films are also widely used in product packaging. Multiple layers and single layers are the two types of layers found in barrier films. When opposed to single layers based barrier films, multiple layers based barrier films are specifically engineered to attain high performance levels. Barrier films serve to keep the quality of the product from deteriorating.
In the agriculture industry, barrier films are used to protect filled items from oxidation, microbial infestation, and vitamin loss. Barrier films also reduce fumigants in crop production and volatile chemical emissions in agriculture. Also, if soil for the growing of vegetables and fruits is fumigated or sterilised, these films provide a moisture barrier.
Barrier films are growing in popularity due to their expanding use in the food and beverage product packaging industry.
Barrier films also serve as a printing substrate, adding to the product's aesthetic appeal. As consumers grow more conscious of the environmental impact of their actions, they are becoming more interested in practical solutions to lessen their carbon footprint. Consumers want products that reflect their beliefs and are sourced, produced, and packaged as sustainably as possible now more than ever. In recent years, consumers have placed a premium on shelf life longevity.
Although, increasing demand for extended shelf life in food items, the use of barrier films in gas storage, the increasing usage of multi-layer packaging, and several other factors are driving the market expansion in a positive direction. As a result, in the not-too-distant future, the market for barrier films in Africa is expected to grow more positively throughout the projected timeframe.
Source : www.globenewswire.com