Africa's eco-friendly food packaging market experiencing significant growth
Posted on : Wednesday , 23rd February 2022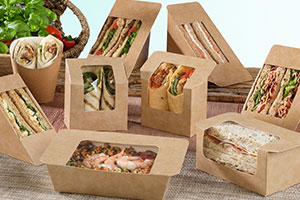 Eco-friendly Food Packaging in Africa is organic packaging created from recycled materials that is both safe and sustainable for people and the environment.
The growing need for organic packaging solutions in a range of end-use industries, particularly the food and beverage industry, is driving the African organic food packaging market. The organic food packaging market in Africa is being encouraged as a result of strong government restrictions for the creation of packaging using non-petroleum goods, package downsizing, and technological advancements in the packaging industry. Furthermore, factors such as increased demand for prepared foods and increased healthcare awareness among consumers are expected to accelerate the development of the African organic food packaging market over the forecast time frame. As a result, today's packaging companies are working on producing recyclable, reusable, and biodegradable packaging.
With rising awareness of global warming and concern for the environment, the packaging industry is opting for green packaging technologies such as the usage of recyclable packaging materials, which has an impact on the African organic food packaging market in terms of higher demand. Furthermore, innovative goods such as grocery packaging and water-soluble packaging are strengthening the African organic food packaging market. Along with growing environmental concerns, there is an increase in demand for confectionary and food products along the road, and government restrictions are expected to embrace the African organic food packaging sector. The market for eco-friendly food packaging in Africa is developing and is predicted to increase rapidly.
With the introduction of bio-plastics, rising environmental interest in sustainable growth, and the application of severe rules, regulations, policies, and directions from government authorities, market growth is accelerating. Customers purchasing quality products are becoming more aware of organic food packaging technology from Africa, which employs bio-plastics as the primary raw material. Personal care, consumer goods, and medicines are among the industries that realise the value of organic packaging. As a result, these factors are likely to promote overall expansion in Africa's eco-friendly food packaging market.
Source : www.averda.com