Silafrica, a leading manufacturer of packaging for consumer goods in East Africa, has unveiled recyclable multipurpose crates.
Posted on : Monday , 22nd August 2022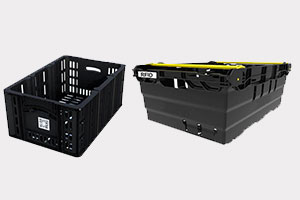 The food sector is booming, with food demand anticipated to increase by 77% over the next 28 years (2022-2050). Whether it's packing wrap, card boxes, cartons, or plastic packaging, food packaging solutions are essential for keeping food contained and safeguarding it as it travels through the supply chain to the customer. Every day, new ideas and breakthroughs in packaging materials and design are being created, opening up new possibilities for efficiency improvements.
Farmers and Silafrica, the top FMCG packaging company in East Africa, worked together to develop two sustainable multipurpose box designs that minimise crop loss while in storage and transit. The two types of containers are stackable and nestable.
Empty nestable containers can be nested together, as the name implies. The area needed for returns is reduced as a result. Low space requirements result in lower transportation costs, which in turn lowers your operational expenses (OpEx).
A designated area on the nestable crates can be used to affix radio frequency identification tags, which will allow for increased tracking, fewer write-offs, and greater visibility of your supply chain cargo overall.
The stackable crates, on the other hand, are divided into three sections, allowing for the packaging of up to three products in a single box. This is crucial in the last mile, which is the movement of goods from a point of sale to a place of consumption or from an aggregation point to a fulfilment facility. In both situations, the required quantities of a certain product could be tiny, making it more cost-effective to transport numerous products in the same storage.
The nestable crates are appropriate in the early phases of the supply chain, when mass transit of similar goods to gathering points or storage facilities is the rule. This is how the two designs complement one another. From there, a variety of different products can be transported via stackable crates to fulfilment centres, places of sale, or consumption locations.
Source : www.marcopolis.net