Africa: UN Agriculture Agency Partners With Italy's Autogrill to Cut Food Waste and Support Small Farmers
Posted on : Wednesday , 8th July 2015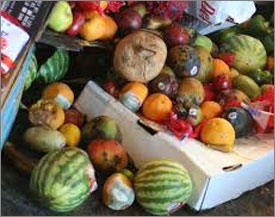 The United Nations Food and Agriculture Organization today announced a partnership with Autogrill -the multinational food and beverage provider best known for its full-service highway rest stops and airport eateries - to cut food waste and introduce products of small-scale farmers in developing countries.
"Under the three-year agreement, FAO will provide Autogrill with tools to track and reduce food losses and waste across its more than 4,000 stores and design information materials and campaigns to raise awareness among Autogrill customers worldwide about waste reduction," the Rome-based UN agency said in a press release.
FAO said it is estimated that roughly one third of the food produced globally for human consumption - approximately 1.3 billion tons every year - is lost or wasted.
The Italian-based chain, Autogrill, which operates mainly in Europe and North America, is the latest to sign on to the Save Food global initiative spearheaded by FAO to involve a wide range of actors along the food chain in common strategies to cut food loss and waste.
"This is a new type of public-private partnership for FAO which could become a model for collaborations with other retailers in future," said Eugenia Serova, FAO's Director of the Rural Infrastructure and Agro-Industries Division.
In addition to tracking and reducing waste, the restaurant chain will also pay attention to the sourcing of its products, in the framework of their corporate social responsibility.
FAO, which has been working with farming cooperatives and producer organizations worldwide to improve small producers' livelihoods, will help Autogrill identify products and small-scale farmers interested in supplying the global retailer as a way to open new markets to southern producers.
Source : allafrica.com