Launch of the Packaging Hub for Small Businesses
Posted on : Monday , 12th December 2022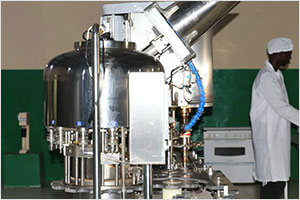 The first packaging centre in the nation was officially opened as part of the Youth Empowerment Project (YEP), a project supported by the European Union that aims to increase the packaging capabilities of MSMEs nationwide.
The GHE Processing Center in Banjulinding hosted the ceremony.
Speaking to the group, Ms. Dorothy Tembo, deputy executive director of the International Trade Centre, remembered that packaging has been a top concern ever since the Youth Empowerment Project began.
The initiative, she continued, carried out sector-specific assessments and action plans, identifying deficiencies in packaging and labelling that complied with international standards, for instance, in The Gambia's Nut and Agroprocessing Sector Roadmap (2018-2022).
Momodou A. Ceesay, managing director of Gambia Horticultural Enterprise, welcomed the attendees and emphasised the importance of packaging for all products.
The purpose of packaging is to identify, describe, safeguard, present, and advertise the product on the market. Additionally, it aids in maintaining the cleanliness and safety of items. Therefore, the significance of packaging in any industry, but particularly in the agricultural industry, cannot be overstated, he said.
Ceesay went on to say that the packaging issues experienced by young business owners, start-ups, and even MSME processors will be greatly reduced by the GHE packaging hub's collaboration with ITC under the YEP and EU assistance.
In addition, YEP will offer semi-automatic filling machines and high-quality, reasonably priced packaging materials. These tools will make it affordable for small processors to package their goods safely and hygienically.
For his part, Pampaloni, the ambassador of the European Union to The Gambia, emphasised that the EU supports programmes that boost the economy in a sustainable way and consequently generate jobs, particularly for young people.
"The European Union values such initiatives greatly because they support our goal to advancing the private sector. You may recall that the EU recently unveiled its Global Gateway, a vast investment initiative that is among other things intended to enhance the movement of products and strengthen regional integration.
The Minister of Trade, Industry, Regional Integration, and Employment, Baboucarr Ismaila Joof, urged the hub's users to make the most of it to help Gambians find work.
Thus, Minister Joof reaffirmed the commitment of his Ministry and the government to support laws, plans, and initiatives that would raise the competitiveness of Gambian goods on both the national and international markets.
In various parts of the nation, the organisation has already launched a training programme for 25 young trainers and a step-down training for businesses.
Source : thepoint.gm