Fruit And Vegetable Export Crates Made by Silafrica Win Packaging Innovation Of The Year.
Posted on : Friday , 3rd February 2023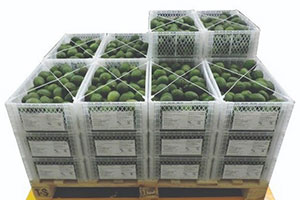 The packaging innovation of the year award was given to Silafrica's foldable export crates for fruit and vegetables at the Kenya Avocado Excellence Awards. Silafrica is the top producer of FMCG packaging solutions in East Africa and is pleased to share this news.
The KAEA is a prestigious programme of the Avocado Society of Kenya that aims to advance the provision of services and overall development of the avocado industry, recognise and value exceptional contributions made by industry participants, encourage innovation and strict adherence to best practises and legal requirements, and promote healthy competition.
As one of the foremost experts in agriculture, Harsama Kello, the Permanent Secretary of the State Department of Crop Development, presented the award to Mr. Ravi Muthu, CEO of Silafrica, it was an honour.

Silafrica's foldable export crates are are lightweight, which is important in terms of shipping costs as the weight of the fruits and vegetables is the primary determinant of cost.Additionally foldable and taking up around 90% less space while not in use, these crates make repeated use and return trips much more practical.
The crates are priced similarly to packaging cartons, which are far less resilient, but accessibility is one of the crucial considerations. In addition, they are able to protect the contents and keep them fresh for a longer period of time because to their design, which boosts conversion rates and sales earnings.
These crates are a useful complement to the global circular economy because they are recyclable in addition to being practical and economical. They can be recycled into other valuable plastic goods at the end of their lives.
In addition to being honoured for its creative packaging ideas, Silafrica is dedicated to providing customers with high-quality goods that satisfy both their needs and market demands. The company is sure that crop exporters wishing to streamline their operations, cut expenses, and boost revenues would turn to its foldable export crates as their preferred option.
Source : https://www.hortidaily.com/article/9492122/silafrica-s-fruit-and-vegetable-export-crates-win-packaging-innovation-of-the-year/