Kenya: Kiambu Farmers Get Sh2.9 Million From Project
Posted on : Tuesday , 11th August 2015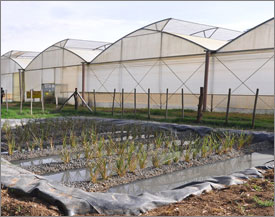 Farmers in Kiambu county have raked in Sh2.9 million from greenhouse produce in four months.
Agriculture executive Monica Waiganjo told the Star on Friday the greenhouse projects were initiated by the county to improve productivity.
Waiganjo said the county has helped farmers put up 80 greenhouses through the Kiambu Agribusiness Marketing Association Cooperative.
The association improves farmers' bargaining power.
They borrowed money from the County Biashara Fund to put up the greenhouses and repay later.
Governor William Kabogo said the association links farmers to markets such as Nakumatt stores, Fruity Fruits in Parklands and Zucchini Groceries in Westlands.
Waiganjo said each group has been assigned an extension officer to educate them every week on good agricultural practices.
"The greenhouses serve as Farmer Field Schools for hands-on training at the ward level. It has changed farmers' perceptions of greenhouse farming which was previously viewed as a technology for the rich," she said.
Waiganjo said more than 20 groups have borrowed to construct greenhouses.
Kabogo said more than 1,500 farmers have been trained on market survey and high-value vegetables in high market demand.
The Agriculture department has launched a Strategic Plan in line with the County Integrated Development Plan and the Vision 2030.
Kabogo said the plan focuses on food security, wealth and employment.
He said the county is unable to supply quantities required in the market and they plan to enrol more groups.
Source : allafrica.com