Nigeria's cashew nut exports for 2015 cross US$250mn
Posted on : Wednesday , 19th August 2015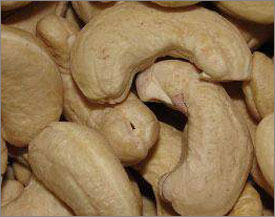 Export of cashew nuts from the 2015 planting season has contributed more than US$250mn to Nigeria's economy
This figure was announced by the National Cashew Association of Nigeria (NCAN) whose spokesman told journalists that the figure was substantially higher than 2013 and 2014 when the sector contributed less than US$125mn annually.
Sotonye Anga from NCAN said that the significant growth was because farmers did not compromise on the quality of cashew nuts, resulting in increased demand for the produce. The price of raw cashew nut also recorded an increase, selling at more than US$850 per metric ton during the 2015 season. Anga said that with the increase, farmers were ready to comply with more stringent quality control procedures. "With the increased pricing that farmers recorded during the 2015 season, they are right now more ready to comply with high degree quality control procedure. Farmers' compliance level has also increased. We want the market to remain sustainable, viable and strong," he explained.
Anga said that higher prices combined with good quality of Nigerian cashew led to the significant growth in total revenue. "This figure could be more but because of export through our porous borders, we could not account for those ones," he added.
Preparations are underway for the 2016 cashew season, and Anga said that cashew tree pruning and training was in progress across all cashew producing states. "The cashew sector is preparing for the next cashew season to commence within the next five months. What we are doing now is sensitising our members across the country on quality control to enable them to enhance their product quality."
NCAN hopes to increase production in 2016 by an additional 30 to 40 per cent, compared to 2016. The association has taken into account the ongoing cashew shortage in Brazil and is trying to assure buyers from India, Vietnam, Brazil and other countries of high quality cashew for next year also.
Source : www.africanfarming.net