Nigeria's agriculture sector to get US$1.8bn
Posted on : Monday , 24th August 2015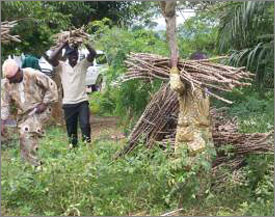 The Nigerian Agribusiness Group (NABG) has plans to invest US$1.8bn for the development of agribusiness across Nigeria
Sunny Echono, permanent secretary in the Federal Ministry of Agriculture and Rural Development, made this announcement at NABG's first annual general meeting in Lagos. NABG is a private sector agribusiness group led by Sani Dangote, and it is comprised of stakeholders across the agriculture value chain, from farmer associations to food processors and transporters as well as banks and finance companies.
Echono called the private sector an engine of growth for the economy, and said, "We have ended the dominance of government and I am optimistic that the private sector will lead Nigeria in restoring its past glory in agriculture." He also expressed confidence in NABG attracting local and foreign investments into Nigeria's agriculture sector.
According to a survey commissioned by the ministry in 2013 to determine the challenges being faced by the agriculture sector, it was found that infrastructure posed the biggest challenge, followed by financing and supply security.
Echono said that the government is working toward removing these constraints, and asked for NABG's help in these areas "by articulating the position of private sector agribusinesses on matters relating to policies, legal and regulatory environments."
Source : www.africanfarming.net