Kenya's smallholder farmers to get IFAD funding
Posted on : Monday , 31st August 2015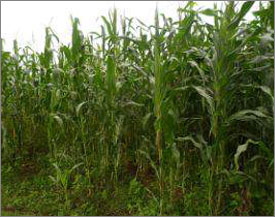 Kenya and the United Nations International Fund for Agricultural Development (IFAD) have signed an agreement to finance smallholder farmers in Kenya
The funding of US$71.8mn will go towards the Kenya Cereal Enhancement Programme - Climate-Resilient Agricultural Livelihoods Window which will benefit ten thousand smallholder farmers, including women-headed households and young people whose livelihoods depend on maize, sorghum, millet and associated pulses living in eight eastern and coastal semi-arid counties.
Of the total amount, US$61.8mn will be a loan, while the remaining US$10mn will be as a grant from IFAD's Adaptation for Smallholder Agriculture Programme. An additional US$2mn will be granted to the programme by the Food and Agriculture Organization of the United Nations (FAO) for capacity-building and agricultural services.
The programme aims to increase rural households' resilience to climate change, and will also help increase production of cereals and associated pulses. It will support smallholder farmers to identify and undertake appropriate, productive and climate-resilient crop practices suited for arid and semi-arid lands.
In addition, it will improve as well as stabilise productivity through adoption of good agricultural practices, conservation agriculture and better water conservation techniques. New business partnerships between smallholder producers and buyers will be promoted. Financing for storage and processing facilities will help to avoid post-harvest losses.
"This new programme will contribute to Kenya's national objectives of food security and poverty reduction by supporting vulnerable farmers to increase the productivity and profitability of three main cereals, maize, sorghum and millet, which not only are traditional staple foods but also have great marketing potential," said Nadine Gbossa, IFAD's country director for Kenya.
Source : www.africanfarming.net