Nigeria's Candel Group to export agrochemicals to Ghana
Posted on : Tuesday , 1st September 2015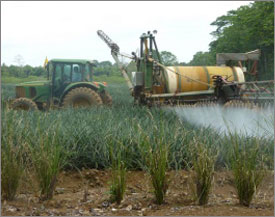 Nigeria-based Candel Company Limited will start exporting agrochemical products made in its Lagos manufacturing facility to Ghana
Charles Anudu, chairman of Candel Group, said that the company's Candel FZE plant, inaugurated about three months ago, now had the capacity to export crop protection chemicals and foliar fertilisers to Ghana, and that other African markets would follow shortly.
"As a company, we have been operating in Ghana for about 15 years, trading in agrochemical products made for us in Asia and Europe, but now we want to export our made-in-Nigeria products which are made with the context of the West African farmer as the focus. We will supply our own distribution network as well as private label customers in that market," Anudu said.
He revealed this during an inspection visit to the plant by the Environmental Protection Agency of Ghana (EPA Ghana), as part of the requirements by the regulatory body to ensure compliance with global environmental and quality standards.
Emmanuel Kattie, managing director of Candel Company Limited, said that the company's research and development unit was working to improve product formulation to suite local needs. "An example is foliar fertiliser for cocoa which both feeds the cocoa crop while protecting its pods from the dreaded Black Pod disease," he said.
Kattie also revealed that the company had formulated a new herbicide for maize which does not contain atrazine, thereby resolving the underground water problems associated with this active ingredient.
Speaking after the inspection, Dr. Sam Adu-Kumi, head of EPA Ghana's chemical control and management centre of EPA Ghana, said that the initiative by Candel would create a good foundation for the entire West African region.
"Most of the agrochemical products that come into our country are substandard. In our sub-region, we only have one factory. Candel's plant and standards are a welcome development that would help boost the economy of Nigeria and trickle down to other West African countries," he said.
Source : www.africanfarming.net