Kenya Wine Agencies to buy South Africa's Distell Winemasters
Posted on : Saturday , 12th September 2015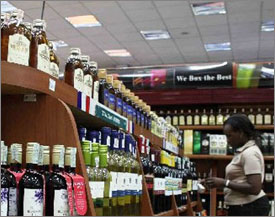 Kenya Wine Agencies Holdings East Africa Ltd (KHEAL) has announced that it will acquire South African wine and spirit distributing firm Distell Winemasters (K) Ltd in a deal it hopes will boost its flagging business in East Africa.
The buyout will be either through cash or a share swap.
Distell Group acquired a 26 per cent stake in KHEAL last year, giving the Johannesburg Stock Exchange listed company two seats on the board of KHEAL, which owns Kenya Wine Agencies Ltd (KWAL).
Distell Group said some jobs could be affected in the transaction scheduled to be completed mid-December, as KWAL moves to cut costs and eliminate role duplication to remain competitive in the liquor business.
"The fate of the employees of Distell Winemasters will be dependent on the final outcome of the transaction. However, we do not envisage Distell Winemasters employees being affected adversely by any potential transaction," said Maurice DeVries, Distell Africa's corporate and regulatory affairs manager in an e-mail to The EastAfrican.
Distell Winemasters, with estimated annual sales revenue of Ksh280.2 million ($2.64 million), has a workforce of 21.
In East Africa, the company currently distributes all Distell Group brands not exclusive to KWAL, including Overmeer, 4th Street, Nederburg, Hunters, Knights Whisky, Obikwa, Zonnebloem and DurbanVille Hills.
Distell Group's acquisition of a 26 per cent shareholding in KHEAL at a cost of Ksh860 million ($8.12 million) is designed to allow the company have a direct control of the production, bottling and distribution of its products in the region.
The shareholding is also expected to give the South Africans more influence in key decisions affecting the future of the company and its performance.
The shareholding also puts Distell in a position to seek arbitration from the International Centre for Dispute Resolution (ICDR) in New York in the event of a disagreement.
Distell Group's managing director Richard Rushton and George Schooling, Group general manager (Commercial) in-charge of North, West, South, East and Central Africa sit on the board of KHEAL.
The two are expected to directly assist the organisation through its transition from a state-owned corporation to a private sector entity owing to the strategic nature of their shareholding.
In 2012, Distell Group went to court seeking to terminate a 14-year production, bottling and distribution contract it had with KWAL on the premise that the delayed privatisation of the government-owned alcoholic drinks manufacturer was frustrating its strategic plans in East Africa.
"KWAL is a critical part of the Distell East Africa strategy. Distell believes that KWAL has strong potential and unique capability that, when leveraged with Distell competencies, will create a formidable competitor," said Mr DeVries.
"Distell plans to work with KWAL management and the other KWAL shareholders to help accelerate KWAL's growth in Kenya and the region," he adds.
Source : allafrica.com